FYI, Google has already leaked a lot, as usual.
4 years ago, when Google launched the Pixel 4 series of phones, the Pixel 4 and 4 XL, it got deterred to be retailed in India due to poor reception unlike the Samsung's S series. But beyond that, the 'Soli' 60 GHz Radar sensor became the unavoidable pretext of "military regulations", thereby leaving us Android fanboys with loss of excellent software, cameras that can wage wars with some professional shooters (Pixel 4 was the first to get dual cameras in the lineup), and exclusive Pixel-only "Feature Drops" (RIP unlimited Photos Backup and Pixel Pass). Yet, one can't deny that Pixels were incompetent for the price it asked for and more importantly, its competition.
Like most of them, Google also kept the Pixels stale yet justifiable during the pandemic (But, extra love for the Pixel 5a 🤗). This pushed them to a do-or-die situation where they have to gain traction before losing all of the little traction they left in the market. What must've happened with the Pixel 5 (no XL, S/O to pandemic) finally got done with the Pixel 6 series. Gone the XL and came the Pro and handshake with Samsung gave us the Tensor, Google's self designed SoC with special AI and ML capable Natural Language Processor which put Pixel in the forefront in usage of AI in smartphones. But, Tensor which came from the Samsung Fabs got super hot with poor efficiency, battering the battery life and also, bad software updates bumfuzzled buyers to opt the Pixel. Still, Pixel finally became a formidable competitor in the segment. Alas! Still India was not in the list of countries that officially sold a Pixel.
That broke with the Pixel 6a last year and till now, all of the Pixel smartphones are launched in the country on time officially and it has been highly revered by the tech community and normal buyers too. Especially, after OnePlus got its reputation spiraling down at the same time and LG creating a void after leaving the world of smartphones (We will miss you, LG). Although being overpriced at launch, Pixel phones make buyers rejoiced during festive sales with sumptuous discounts and flashy price drops. The long software support and those "Feature Drops" acted as a final seal of purchase approval, as most Indians love not to switch their phones frequently.
With this huge throwback out of the way, Made By Google announced that the new Pixel phones and its other ecosystem products will get launched on October 4, 2023 at 10 AM ET (7:30 PM IST) by revealing the rear designs of the new handsets, in true Google fashion. Here's everything you need to know on what's coming in hot from Made By Google this American fall. YouTube livestream links for the event is embedded below.
The Pixel 8 series: All the nitty-gritty
Just like every year, after all the possible leaks been released off, Google put out a sneak peek for the new smartphones. From the sneak peek, one can expect an incremental yet meaningful set of updates for the new ones.
Kick-starting the rumour mill with the Pixel 8, the size of the display gets a descend from 6.3″ to a more handy 6.2″ (6.17″ to be precise). Since there's no change in terms of resolution, there will be a slight bump in the pixel density of the display. Brightness in HDR scenarios is anticipated to top at 1400 nits this time, a 400 nit jump from previous iteration. But the cherry on top to look out for this release is the mild hike from 90 Hz to 120 Hz of refresh rate which is a first for the vanilla Pixel. But one should not expect for a LTPO panel for this device. The display will continue to be flat, unlike the 7 Pro.
But when it comes to Pixel 7 Pro's successor, people with the 7 Pro who got fed up searching for screen protectors for their device can now chill-or go mad, if you aren't upgrading (RIP Pixel Pass)- as the 8 Pro's display will now get more flattened around the lateral edges. Brightness on the new 6.71″ (that's 0.01″ increase diagonally from 7 Pro for the spec nerds) will now top at a more competitive 1600 nits in HDR, 600 nit hike from the anteceding device. Even though the 120 Hz LTPO VRR (Variable Refresh Rate) is estimated to go as low as 5 Hz, one can expect up to 1 Hz for competitive reasons.
Talking about design changes, the new phones will now get a more rounded off look and a more broader camera bar to contain the newly expected larger sensors which I'll cover in a moment but it mildly dwarfs the new Pixel 8 when compared to the forerunner. The 8 Pro will now get a single glass covering all of its rear cameras opposite to the 7 Pro with its strange separated scene for the telephoto lens from the other 2 cameras. One can also expect the ultrasonic in-display fingerprint reader for the Pro phone this time, along with the new body temperature sensor (probably mounted in the corner of the 8 Pro's camera bar below the flash).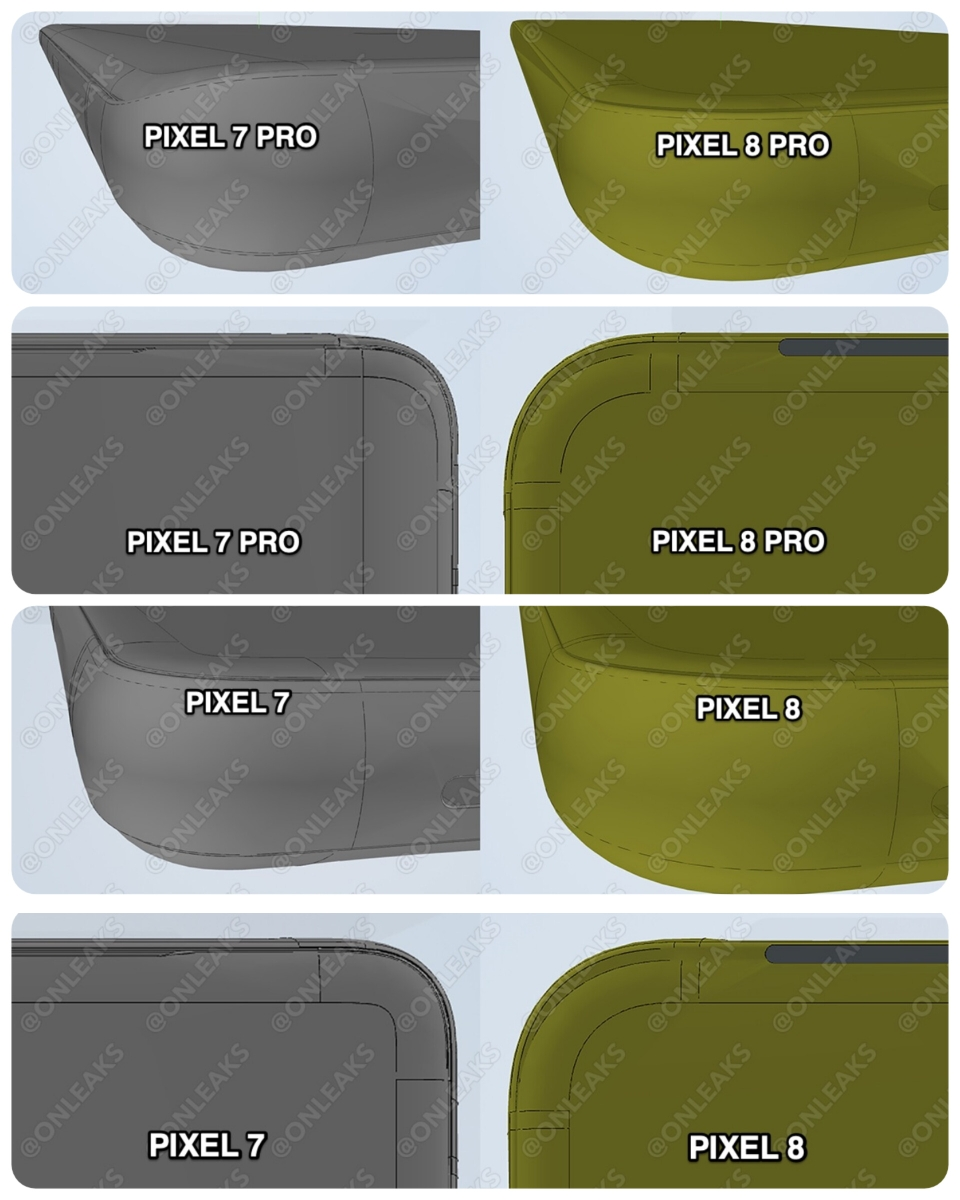 Battery lives in theses devices is highly prayed to be better, thanks to the poor efficiency of the Tensor series of mobile SoCs. Since the regular Pixel 8 has been obese-d up by 0.2mm in thickness, battery size might be beefed up to a rumoured 4600 mAh, but the 8 Pro will be depleted down by a measly 50 mAh when compared to the predecessor. But, both phones will now be getting faster wired charging speed where the Pixel 8 is banking on a 30 or 33W whereas the 8 Pro gets up to 45W with Google's own USB-PD PPS charger. But wireless charging speeds will mostly be remain unchanged at 20W and 23W with Google's Pixel Stand but bumping from 12W to 15W in other Qi-Certified chargers as these devices will be the first Android handsets to support the "upcoming" Qi-2 wireless charging standard.
Talking about the Tensor G3, expect Google to finally address the heating and inefficiency issues plaguing the last 2 generations of this SoC. But thanks to this, Pixel will be at the helm of the long term software support again (Excluding Fairphone) by supporting the new devices with up to 7 years of security updates/patches. Even if there isn't any form of performance lift, it'd be okay for the new SoC to be fast enough to take care of daily tasks with zero hiccups but to be as cool and battery-sipping as possible, as recited earlier. The Tensor G3 will be coupled with 8 GB of RAM for the vannila 8 and 12 GB of RAM for the 8 Pro (both LPDDR5) but the amount of storage that'll hold the 7 years of software updates remains unearthed.
Unlike the iPhone 15s which got colours scrubbed using Colgate instead of reminiscing the Xr, Google is killing it with the colour choices for their devices. Renders give us a potential look at the different colour options for both devices, which include gray, black, and pink for the Pixel 8 and sky blue, porcelain, and black for the Pixel 8 Pro.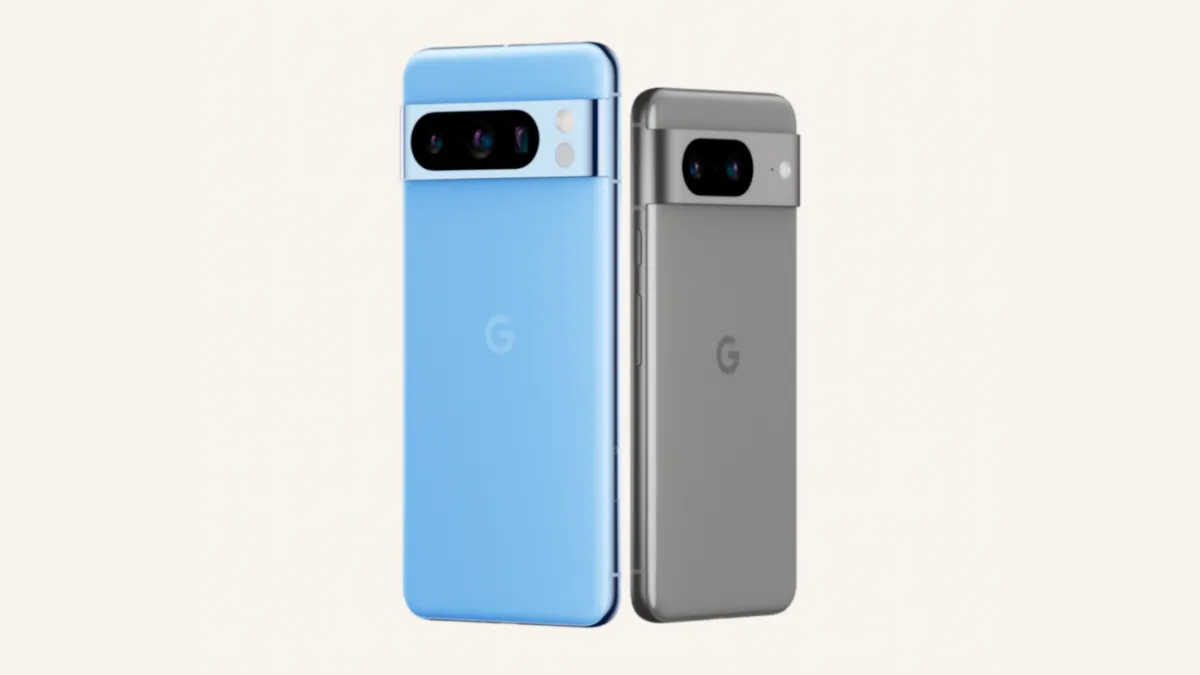 Smitten to dilemma between the super photogenic Blue and the dapper Matte Black.
Pixel 8 Series: Elephant(s) in the room.
🐘 The Camera
The new Pixels is getting some serious updates in both hardware and software levels. Starting with the Pro, that camera visor will consists of a 50 MP main sensor (probably new sensor), 48 MP periscope telephoto lens up to 5x optical zoom but a new 48 MP ultrawide angle lens which does double duty as a macro shooter. But the specs remain untouched in the regular 8 but the ultrawide angle lens finally does double duty as the macro shooter. Selfie camera in both the devices take a lite 0.3 MP dip to 10.5 MP. Relax influencers, 4K @ 60 fps on all cameras is not lost. Still, don't look out for 8K recording.
Thanks to the powerful and flexible TPU in Tensor which handles AI and ML tasks with no fuss, Google blew people's minds away with the famous Magic Eraser feature which-as the name suggests- played magic on the photos with beyond respectable results. Now they want to take things to a eleven (and they did) with nifty Photo Unblur, Face Unblur, competition-dominating Night Sight, (my favourite) Real Tone, new staggered HDR (AKA HDR on steroids), Professional camera-like controls and the nightmare-inducing Magic Editor, which was first introduced in Google I/O 2023. 🤐
🐘 The two alphabets on the fad
Google used the term "Generative AI" a bajillion possible times and they aren't stopping it right now at its prime. Expect the new Android 14 launching on the same day with a downpour of AI based software features along with the camera related software features mentioned above like AI generatable wallpapers, integration of Google Bard with Assistant and Search, powerful language management and accuracy, passkeys, usage of phone as a webcam (mostly a Pixel exclusive), and the list will only go on. As the Pixel is the pioneer in this aspect, like it or not, there's no turning back.
🐘 One more Benjamin required!
Yuh. After 2 strong years, Google is hiking the prices of these devices in this iteration. Both the phones will now witness a $100 takeoff in sticker price in the United States, where the booking start at 4th of October and sales begin at 12th. Indian prices' estimation is still in the quandary of confirmation. But one can hug the idols in the mantelpiece as Google is evaluating like Apple to assemble devices in India natively, thus playing a big role in the price tag 🙏
The Indian Elephant in the room 🐘
But just manufacturing in India is not enough to gravitate buyers towards the devices. Getting accessories for the handsets is still a detective's task, especially the screen protectors for the 7 Pro. To achieve proliferation like Apple done, Google has get more offline partners to sell devices and accessories. And most importantly, nail the after-sales experience since these premium devices cannot be "accessibly priced" in India AKA stop making customers to send devices all the way to Mumbai and make them wait for a fortnight. Also, access of spares for third party technicians is also essential to make Google Pixel an easy phone to recommend in a complicated-yet-profitable market like India.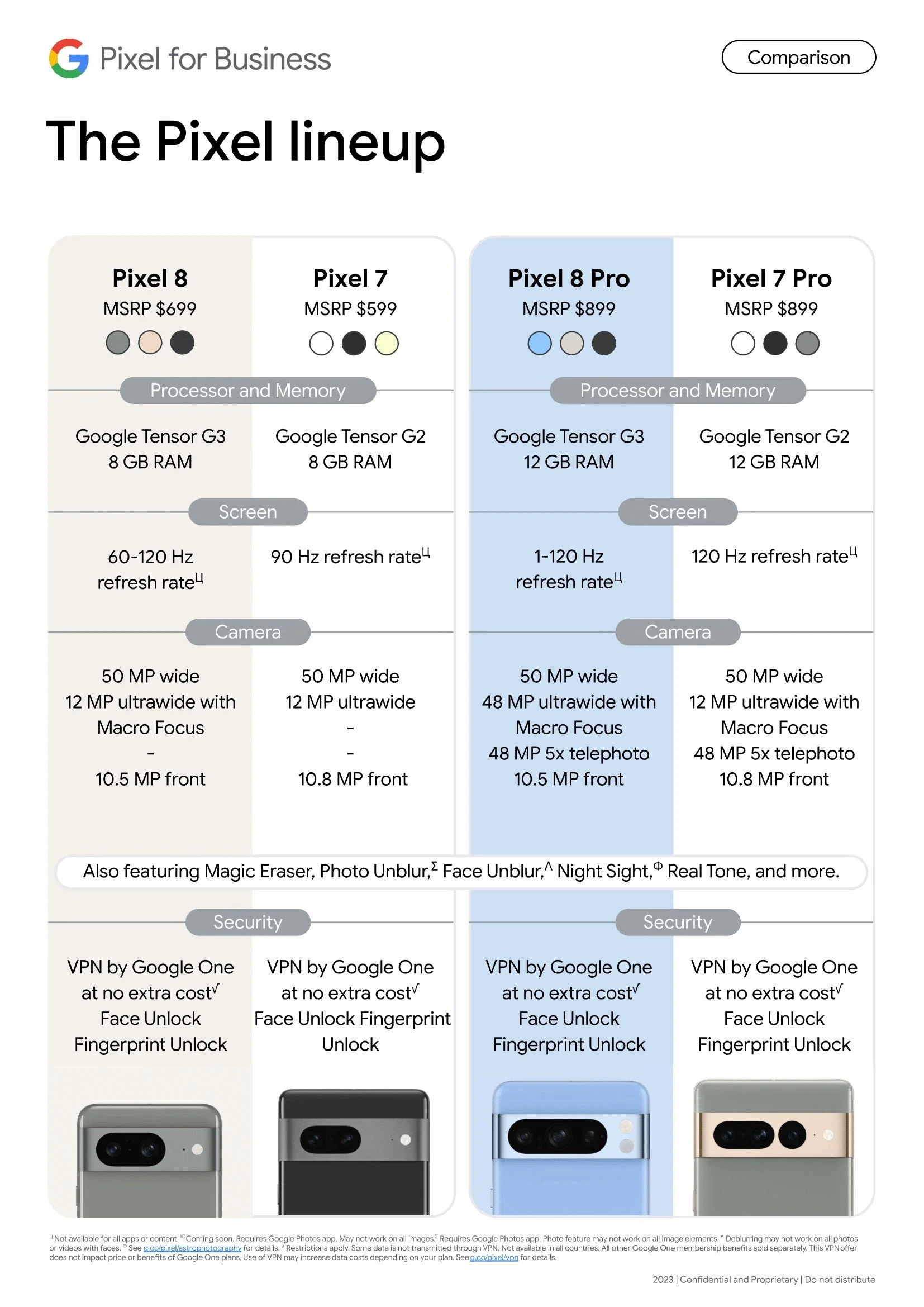 Pixel Watch 2: It's hitting the Indian shores (or stores)!
Unlike the last time, the Pixel Watch 2 is now heading to India legally for a launch. Just like the phones, Made By Google uploaded a sneak peek for the Watch 2, which was reuploaded by Google India.
The Pixel Watch proved itself to be a reasonable debut but it needs to establish itself as a good smartwatch maker, especially for the unchanged asking price of $350 minimum (₹29,000-31,000 estimated). And this iteration is ought to do that, which it has to.
As leaked specs suggest, Google will embrace the fitness and health sensors and firmware from its affiliate FitBit completely instead of the previous Watch's half-baked mess (Thus, the new Blue colour bands. Thanks FitBit, I'm lovin' that colourway)which includes a new heart rate tracker that uses Fitbit's multi-path heart rate sensor that checks your heart rate in more ways and places. It may even incorporate Fitbit's stress management system and "Body Responses" that uses a cEDA (continuous electrodermal activity) sensor to help detect when you're feeling stressed. ECG is also present and will be improved for the Watch 2.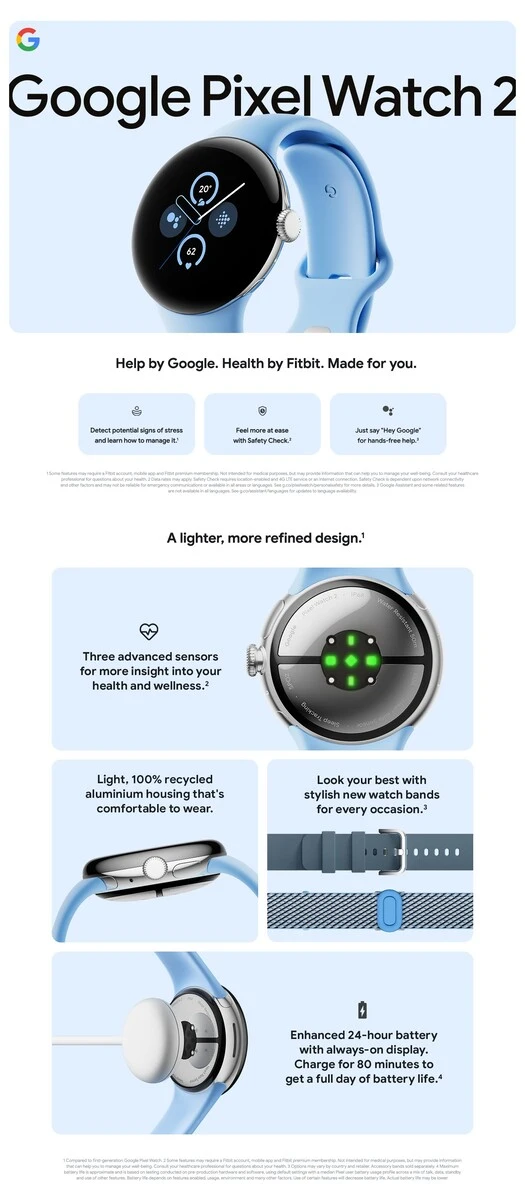 Other features include a way for the watch to automatically detect new exercises, including running and outdoor cycling, as well as a new Safety Check option that lets you set a timer if you feel that you're in an unsafe situation. When the timer runs out, the watch will ask you to confirm whether you're safe or if you would like it to share your location with emergency services. If you don't respond, it will automatically share your location with your emergency contacts.
The Pixel Watch 2 may feature an upgraded Snapdragon W5 Gen 1 processor and an ultra wideband chip. On the software front, the upcoming Google smartwatch will apparently run Wear OS 4, based on Android 13. Besides the performance and efficiency improvements, the OS will bring Material You to the watch for a more colorful UI experience. Outside of all this, not much else is changing. The Pixel Watch 2 is rumored to have the same up to 24 hours of battery life as its predecessor and will also retain a similar design, aside from the rumored swap to an all-aluminum chassis.
Google should launch several new watch band options for the Pixel Watch 2 as well, including two metal bands. The Pixel Watch 2 should go up for pre-order alongside the Pixel 8 series, with Google reportedly planning to bundle the watch for free with the 8 Pro in select markets. Also, Indian buyers shouldn't expect all the health sensors to function as it will be disabled at a firmware level, thanks to the standards and regulations in the country.
Pixel Buds: A Small Pleading and other devices
The awesome Pixel Buds Pro is set to get new colour choices (Blue!) and new features as a firmware update, like conversation detection and clearer calls. But Google should resurrect the affordable A-Series Pixel Buds with-if possible-noise cancellation. Otherwise, it's super incremental here.
Google Chromecast:
There have been rumors of a 2023 Google Chromecast. With the current-gen 4K streaming device nearing its third birthday, it is due for a refresh. While the device has not appeared in renders, some leaks have shown a Chromecast remote with circular buttons and a revamped layout.
Nest?
Google also tends to showcase new Nest hardware at its annual Made by Google event. However, there have not been any leaks regarding new Nest security cameras, Wi-Fi routers, or smart speakers and displays. So, it's difficult to say if any new Nest devices will be unveiled at the event.
Yes! We will be covering the Event where Made By Google will get rid of the brand's blues by embracing the Blue throughout its lineup 🤩. Stay Tuned…
For kicks, check out the unboxings of Pixel 8 and Pixel 8 Pro before launch below 😎