In this article, we will explore the capabilities and features of Microsoft Edge. Whether you're a tech enthusiast or a casual user, this article will help you know the features and enhancements that distinguish Microsoft Edge apart from its rivals. Let us see how Edge elevates your browsing experience.
A Quick History
Internet Explorer dominated the browser world for almost 17 years from 1995 to 2012. Due to Internet Explorer's terrible image as being bloated, unsafe, and difficult to use, many users shifted to Google Chrome as an alternative. Google Chrome overtook Explorer in 2013.
So, Microsoft started working on Edge, originally known as "Project Spartan", in 2013 to compete with rivals. On July 29, 2015, it was made available as the default web browser in Windows 10, replacing the place of Internet Explorer.
When Microsoft stated in December 2018 that it would rewrite Edge using the "Chromium" Engine, an open-source project and that is the point where it saw a dramatic change. This change enhanced web compatibility and opened up access to Chrome extensions, and improved performance. On January 15, 2020, the updated Chromium-based Microsoft Edge browser went live.
Since then, Microsoft has worked to improve Edge, adding functions like support for progressive web apps, customized start pages, seamless integration with Microsoft services, and built-in privacy and security safeguards. With its current availability across Windows, macOS, iOS, and Android platforms, it offers a cutting-edge and effective browsing experience.
In 2023, the Integration of enhanced Bing Search and ChatGPT skyrocketed Edge adoption. Edge has more features compared to other browsers and it is the most optimized one for Windows as it comes from Microsoft, the developer of Windows. Let us see how it is better than its rivals in this article…
User Interface and Design
Microsoft Edge's user interface is known for its simple and clear layout, which offers an aesthetically pleasing and comfortable surfing experience.
You'll notice a simple layout with a condensed toolbar and a search/address bar right away. Users can easily explore and access key functionality considering to the design's emphasis on simplicity.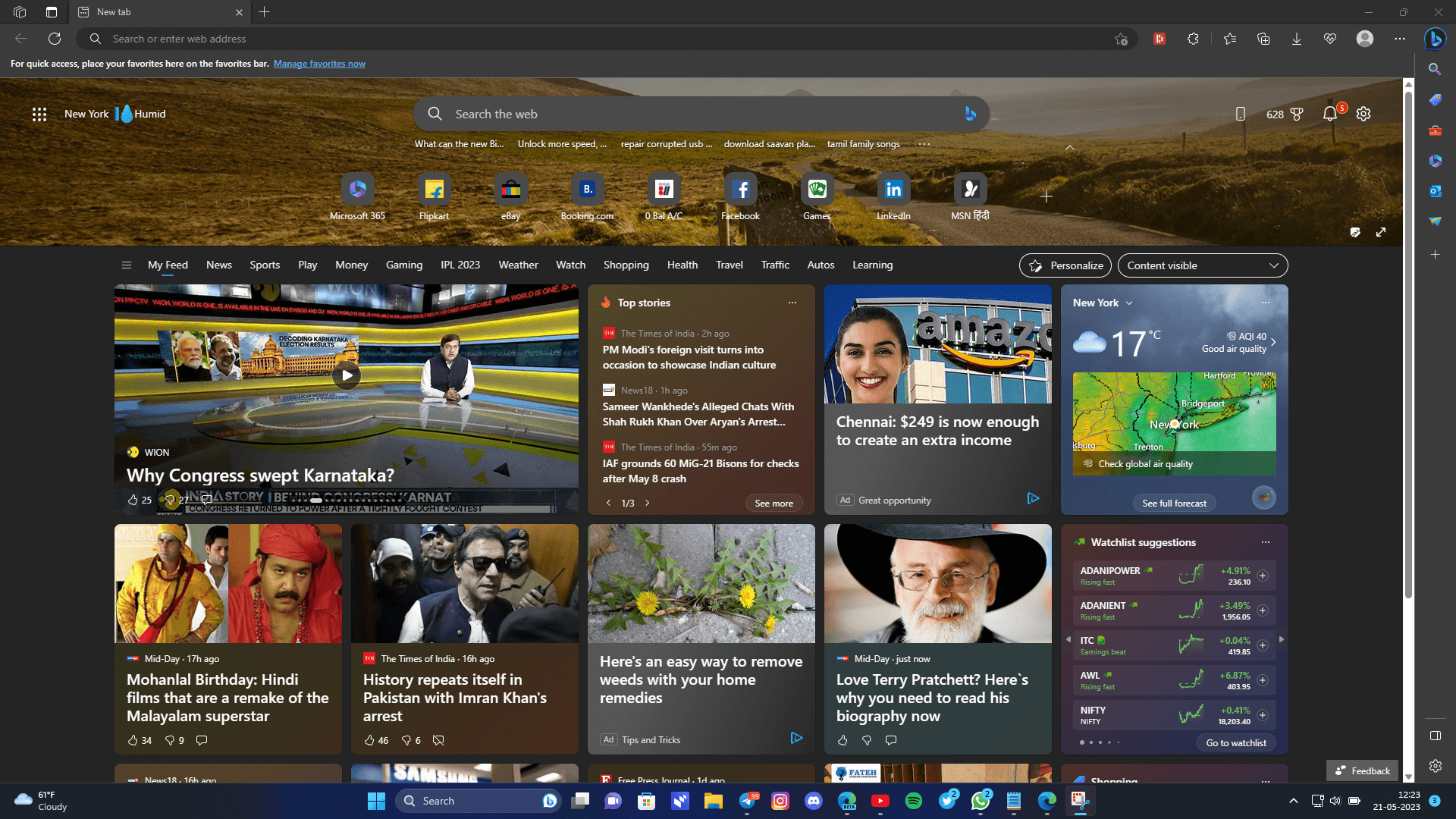 Tabs are neatly organized at the top of the window, allowing effortless switching between different web pages. With tools like tab previews, tab grouping, and the ability to save tabs for later use, Edge's tab management capabilities stand out in particular. Users who manage several browser sessions can stay organized and efficiently manage multiple browsing sessions.
Microsoft Edge offers a distraction-free reading environment. The browser has a "Reading View" function that eliminates sidebars and other auxiliary material from web pages, leaving only the main text. Users may concentrate entirely on the text in this clear and uncluttered perspective, improving readability and minimizing visual distractions.
The incorporation of Microsoft services is another noteworthy feature of the user interface. As a result of the browser's seamless integration with Office 365, users may access and modify documents right from the browser. Other Microsoft services, like OneDrive, are also integrated, making it simple to share and manage files.
Microsoft Edge also offers option to customize their start page, selecting between a conventional new tab page and a layout with news feeds, weather updates, and other personalized material. The ability to customize the start page ensures that users have quick access to the information that matters most to them.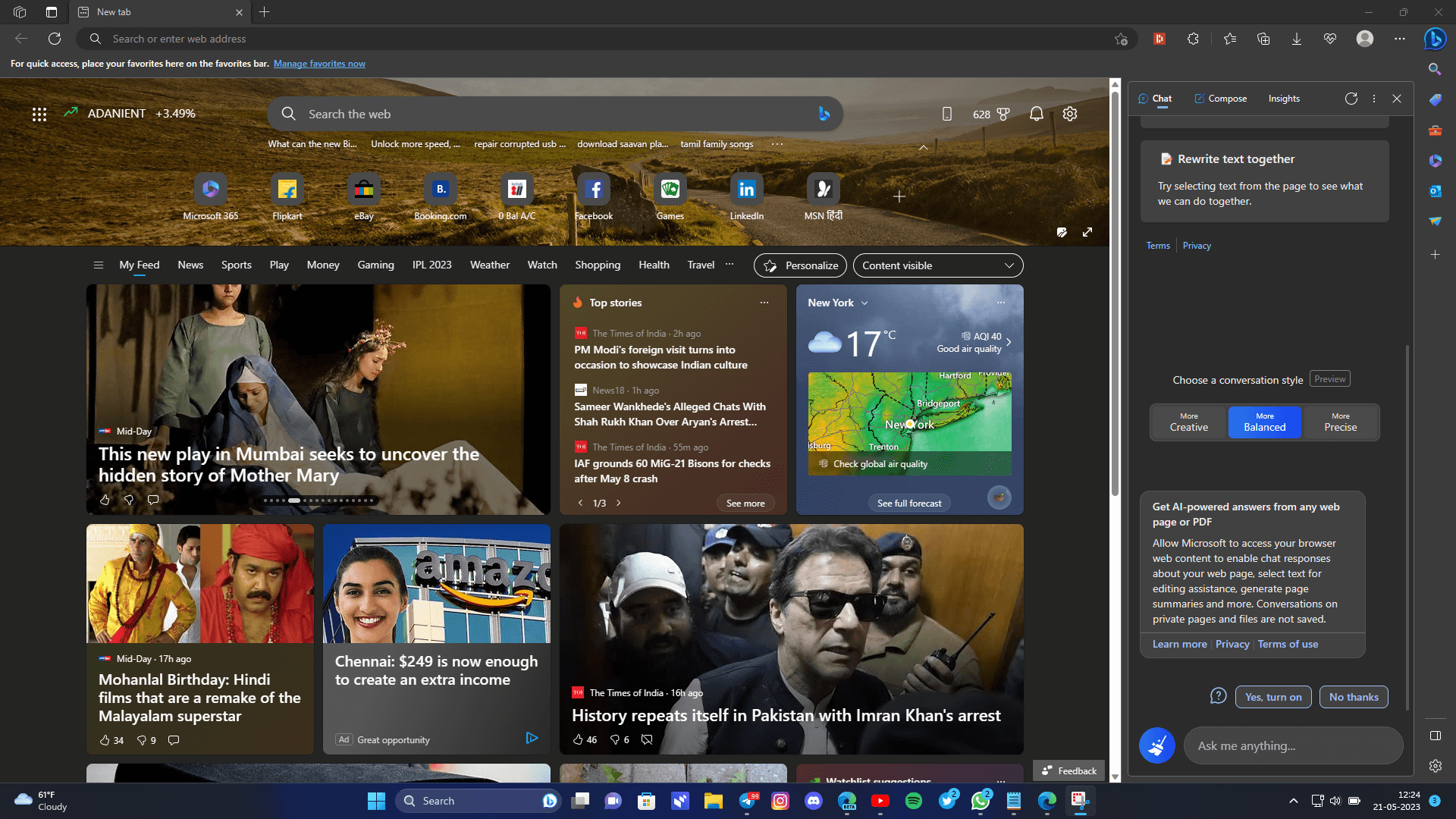 Recently, Edge integrated ChatGPT right into the browser. ChatGPT is an advanced language model developed by OpenAI, designed to engage in human-like conversations. Microsoft is one of the significant investors in OpenAI. This integration made user workflow still more easier.
Overall, the user interface of Microsoft Edge prioritizes simplicity, efficiency, and customization. Edge provides a pleasant and user-friendly surfing experience with its simple design, clear layout, and essential features.
Performance and Speed
The Edge browser is renowned for its impressive performance and speed. The streamlined UI, enhanced rendering engine, and improved resource management are just a few of the things Edge includes that boost performance.
Edge uses less RAM compared to its rivals. In our Analysis Edge consumed less RAM compared to Chrome and Firefox. The below table shows the result of our analysis.
Test Bench Specs: AMD Ryzen 7 4800H (8 Cores / 16 Threads), 16 GB 3200MHz DDR4 RAM, Nvidia RTX 3050
| | | | |
| --- | --- | --- | --- |
| | Google Chrome | Mozilla Firefox | Microsoft Edge |
| 10 tabs | 951 MB | 1003 MB | 863 MB |
| 20 tabs | 1.8 GB | 1.7 GB | 1.3 GB |
| 50 tabs | 3.6 GB | 3.5 GB | 2.6 GB |
RAM Usage Analysis
With more tabs open Edge performs exceptionally well. It uses nearly half of CPU power of chrome with 50 tabs open. Edge is suitable for users who multitask and open more number of tabs and work with them simultaneously.
| | | | |
| --- | --- | --- | --- |
| | Google Chrome | Mozilla Firefox | Microsoft Edge |
| 10 tabs | ~ 5% | ~ 4% | ~ 5% |
| 20 tabs | ~ 14% | ~ 9% | ~ 8% |
| 50 tabs | ~ 32% | ~ 23% | ~ 17% |
CPU Usage Analysis
In order to improve webpage rendering, it makes use of hardware acceleration, which makes use of the device's graphics processing unit (GPU). This means that it can offload some of the tasks involved in rendering web pages to the graphics card, which can lead to a significant improvement in performance.
It also has a feature called "Sleeping Tabs". It will put a tab to sleep while it is not being used. This frees up memory and CPU resources, which can enhance browser performance.
Efficiency mode is a feature that is built directly into the browser which designed to improve the battery life of laptops and tablets. It accomplishes this by limiting the resources that Edge utilizes.
Startup boost is a feature that helps Edge to start up faster by keeping the browser running in the background after you close it.
Additionally, JavaScript execution has seen considerable advancements in Edge, resulting in faster web page loading and more streamlined surfing. Overall, Edge is recognized for its robust performance and ability to deliver a seamless web browsing experience.
Security and Privacy Features
Edge browser prioritizes user privacy and incorporates several features to safeguard personal information. It has a wide range of privacy features that let users browse the web securely.
Edge has an integrated tracking protection feature that helps in blocking trackers and third-party cookies, making it more difficult for advertisers to monitor users' online activities. It also offers a "Strict" mode that guards users against phishing attempts and blocks well-known malicious websites.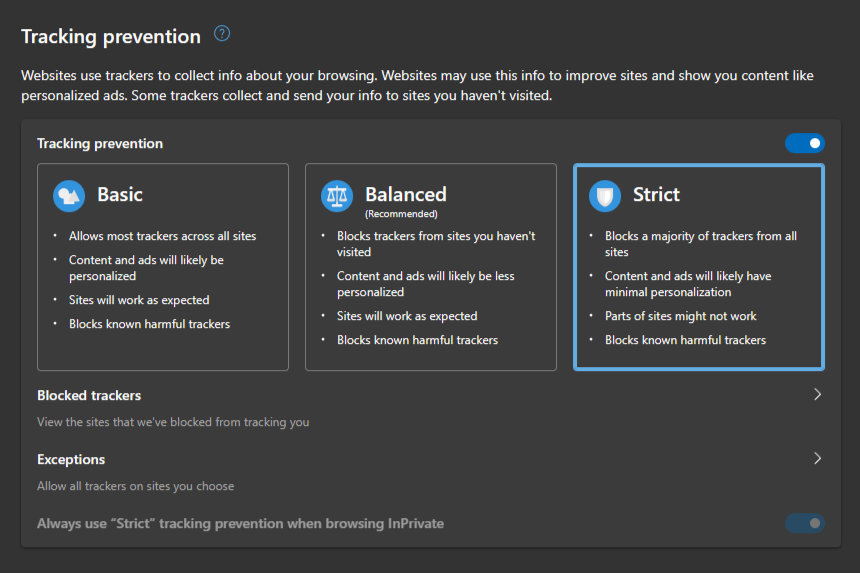 SmartScreen Filter is a feature that helps to protect you from malicious websites. It does this by checking websites against a list of known malicious websites. Edge will alert you and stop you from visiting a website if it determines that the site is malicious.
In addition, Edge provides tools like InPrivate browsing and a password manager to improve security and privacy. With these robust privacy features, Edge aims to provide users with a secure and private browsing experience.
Productivity and Integration
Users can take notes on web pages using the built-in note-taking app in Edge. There are many different ways to take notes, including with text, images, and audio.
Reading mode is a feature that removes distractions from web pages. This makes it easier to focus on the content of the page.
Collections is a feature that allows users to save and organize web pages. Articles, research, and other items that you want to keep track of can be saved in collections.
Microsoft Office 365 and Edge are integrated, allowing users to quickly access their documents, spreadsheets, and presentations from the browser.
Edge also integrates with a number of other popular apps, including:
OneNote
OneDrive
Outlook
Teams
Wunderlist
These integrations make it easy to use Edge for all of your productivity needs.
Overall, Microsoft Edge is a powerful and versatile web browser that offers a number of productivity and security features. It is a great choice for users who want a browser that is fast, secure, and integrated with their other productivity apps.
Extensions and Add-ons
The Edge browser's functionality is expanded via extensions and add-ons that let users tailor their surfing experiences to meet their unique needs. Edge offers a comprehensive ecosystem of add-ons and extensions with a variety of options.
Edge has you covered whether you're wanting to increase efficiency, improve privacy and security, or add enjoyment and entertainment to your browsing. There is an extension or add-on for practically every need, ranging from password managers to language translators and note-taking applications.
Microsoft Edge supports both official extensions from the Microsoft Store as well as from Chrome Store and third-party extensions from trusted sources. Chrome Extensions are supported as Edge is built on Chromium engine. This flexibility ensures that users have access to a diverse selection of tools and features to personalize their browsing experience.
Users may quickly explore and search for extensions and add them to their browser with a single click. The extensions seamlessly integrate into the Edge interface, often appearing as icons in the toolbar or providing additional functionality within web pages.
Not only does Edge support a wide array of extensions, but it also emphasizes security. Microsoft has implemented strict guidelines and review processes to ensure that extensions available in the Microsoft Store are safe and trustworthy. This commitment to security provides users with peace of mind when installing and using extensions in Edge.
Microsoft Edge Add-on Store: https://microsoftedge.microsoft.com/addons/Microsoft-Edge-Extensions-Home
Chrome Web Store: https://chrome.google.com/webstore/category/extensions
Pros and Cons
Pros of Edge Browser:
Speed and Performance: Microsoft Edge is known for its fast and efficient performance, offering quick page loading times and smooth browsing experience.
Integration with Microsoft Services: Edge effortlessly connects with a number of Microsoft services, including OneDrive and Office 365, giving users within the Microsoft ecosystem easy access to files and increasing productivity.
Privacy and Security: Edge prioritizes user privacy and security by offering features like Tracking Prevention, InPrivate browsing mode, and built-in Microsoft Defender SmartScreen for protection against malicious websites.
Customizability: Edge offers a range of customization options, allowing users to personalize their browsing experience with themes, extensions, and a customizable start page.
Compatibility: With its switch to the Chromium engine, Edge gained improved compatibility with websites and a wider range of web apps and extensions available from the Chrome Web Store.
Cons of Edge Browser:
Cross-Platform Syncing Limitations: While Edge is available on multiple platforms, including Windows, macOS, iOS, and Android, syncing data and settings across different devices can sometimes be inconsistent or limited in functionality. This may be inconvenient for users who heavily rely on seamless cross-platform synchronization.
Compatibility with Older Websites: Although Edge is built on the Chromium engine, there may still be instances where older websites or web applications optimized for specific browsers may not function as smoothly on Edge. Users may encounter occasional compatibility issues with certain websites or experience glitches during their browsing sessions.
Versions
Other than windows, Edge is available to all major platforms like MacOS, Linux, Android and iOS.
Download Edge: https://www.microsoft.com/en-us/edge/download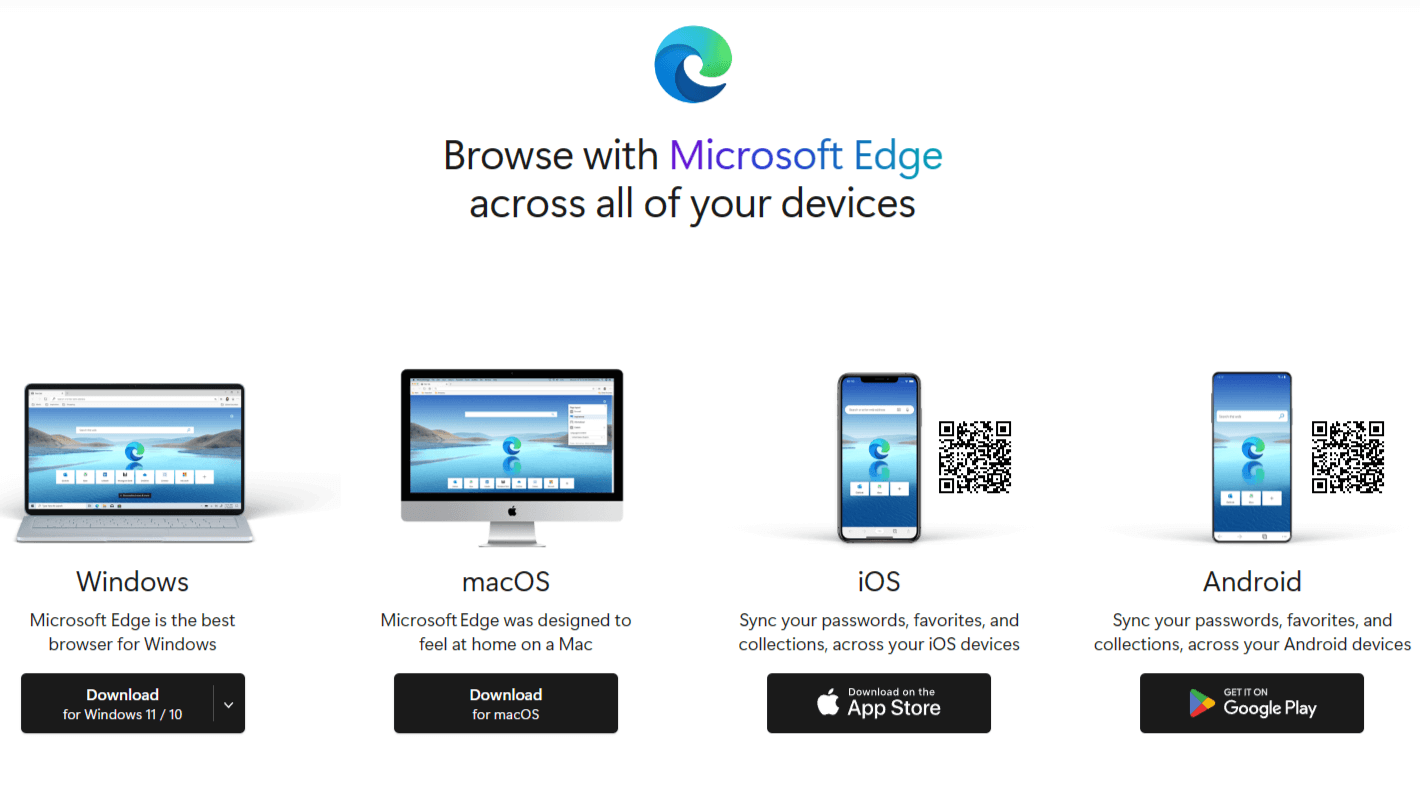 Edge Insiders is a program launched by Microsoft that allows users to get early access to upcoming features, improvements, and updates of the Microsoft Edge browser. It offers a way for users to test and provide feedback on the latest developments before they are rolled out to the general public.
Edge Beta provides a major update every 4 weeks. Edge Dev provides a weekly major update and Canary version provides daily updates. All these may be unstable and may cause data loss.
I recommend to go with Edge Beta if you want to test the upcoming features early with maximum stability.
Edge Insider Version Download: https://www.microsoftedgeinsider.com/en-us/download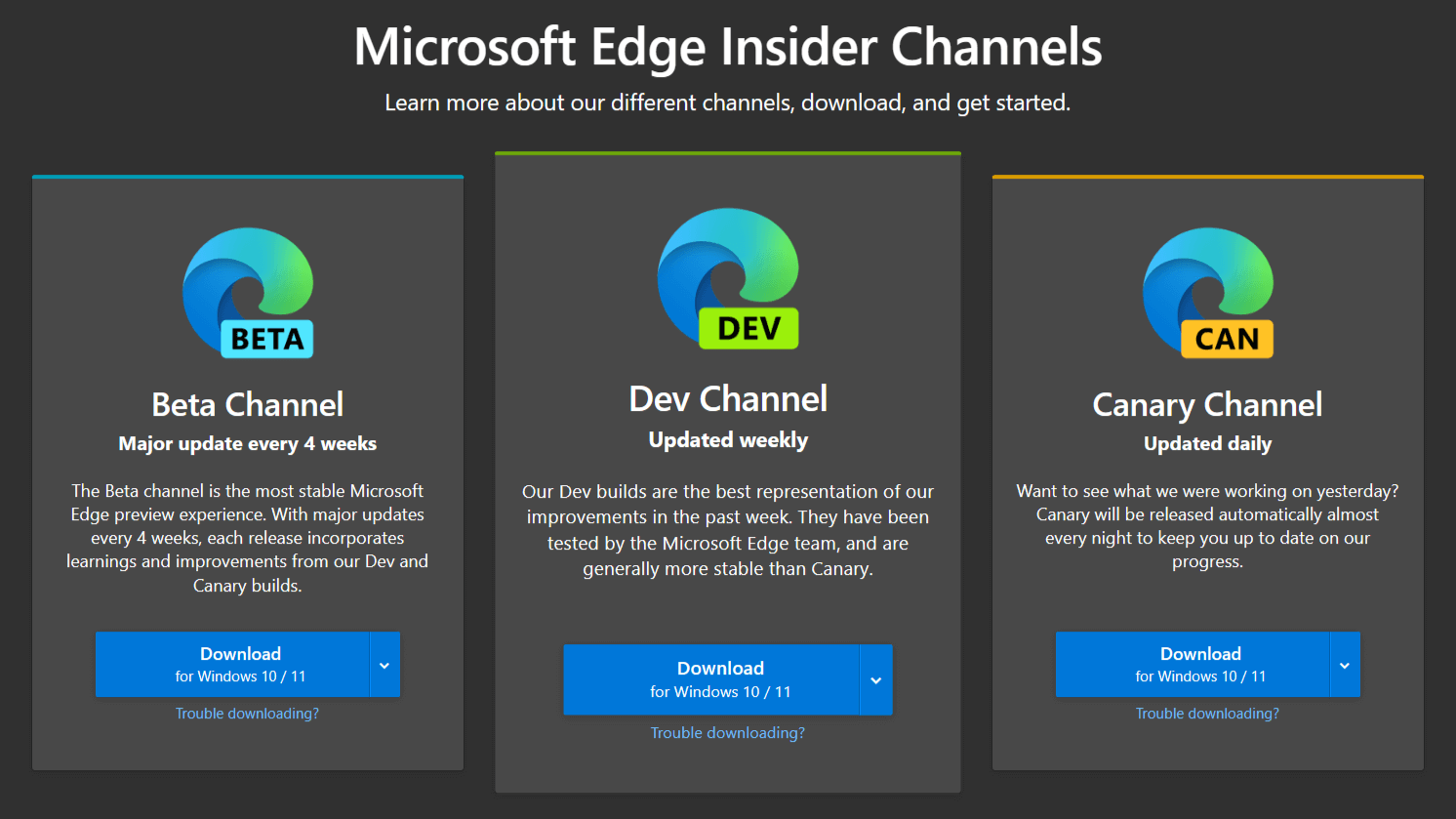 I recommend using Cloudflare 1.1.1.1 along with Edge Browser for more Private Experience. In short, Cloudflare's 1.1.1.1 hides your DNS requests, protecting important information from your ISP thereby enhancing privacy.
Read more about Cloudflare 1.1.1.1 with our Review at https://techmedok.com/application-review/1-1-1-1/