Elon Musk, CEO of SpaceX and Tesla tweeted a few months ago that cryptocurrencies like Bitcoin are driving up fossil fuel consumption. The carbon footprint of global Bitcoin mining operations has increased by 40 million tons in the past two years, according to a report. That makes Bitcoin mining more polluting than American Airlines. So that he revoked Tesla's decision to accept Bitcoin as a payment for Tesla cars… This made people look for a greener alternative.
Tesla & Bitcoin pic.twitter.com/YSswJmVZhP

— Elon Musk (@elonmusk) May 12, 2021
The Chia Network was founded in 2017 by Bram Cohen, the author of the BitTorrent protocol. Chia is a cryptocurrency that claims to be a greener alternative to Bitcoin and other cryptocurrencies.
Transactions were enabled on May 3, 2021. Bram Cohen aims to make Chia a revolutionary technology in the increasing centralization of the crypto mining industry. With this, people could mine crypto from basic computers from their homes. But this is not the case as of now (December 2021).
Let us discuss more about the concerns raised because of chia later in this post. Lets us see how chia mining works…
How does Chia Mining work?
Instead of using a computer's processing power to solve complex puzzles, Chia requires more storage space than processing capacity. Chia uses a completely new mining concept called 'Proof of Space and Time' (PoST) unlike Bitcoin's mining concept 'Proof of Work' (PoW). Proof of Space and Time is comparatively efficient and greener than Bitcoin's PoW mechanism.
In this type of mining, miners use free storage space in their systems to hold cryptographic plots, unlike Bitcoin or Ethereum that use CPU/GPU's computational power. The more unused storage on the hard drive, the more Chia can be mined. "More" doesn't mean GBs, TBs of free storage space are required to mine profitably. And since it does not need much processing power, Chia is said to be much more energy-efficient than other cryptos.
Mining of chia involves two main processes – Plotting and Farming… Plotting is putting data on a storage device that you own. Farming is checking that you still have the plotted data on that storage device.
Spoiler alert!!! Mining Chia is useless as of now. It's mere waste of money and time. Stay tuned to know why…
XCH is the currency symbol for Chia. TXCH is the currency symbol for test net chia. TXCH has no value and is only used for testing purposes. Chia and test net chia can be divided up to 12 decimal places (trillionths). The smallest unit of chia, a trillionth of chia, is called a mojo, as a tribute to Mojo Nation, a decentralized file storage platform created in the early 2000s by Zooko Wilcox, Bram Cohen, and others.
Plotting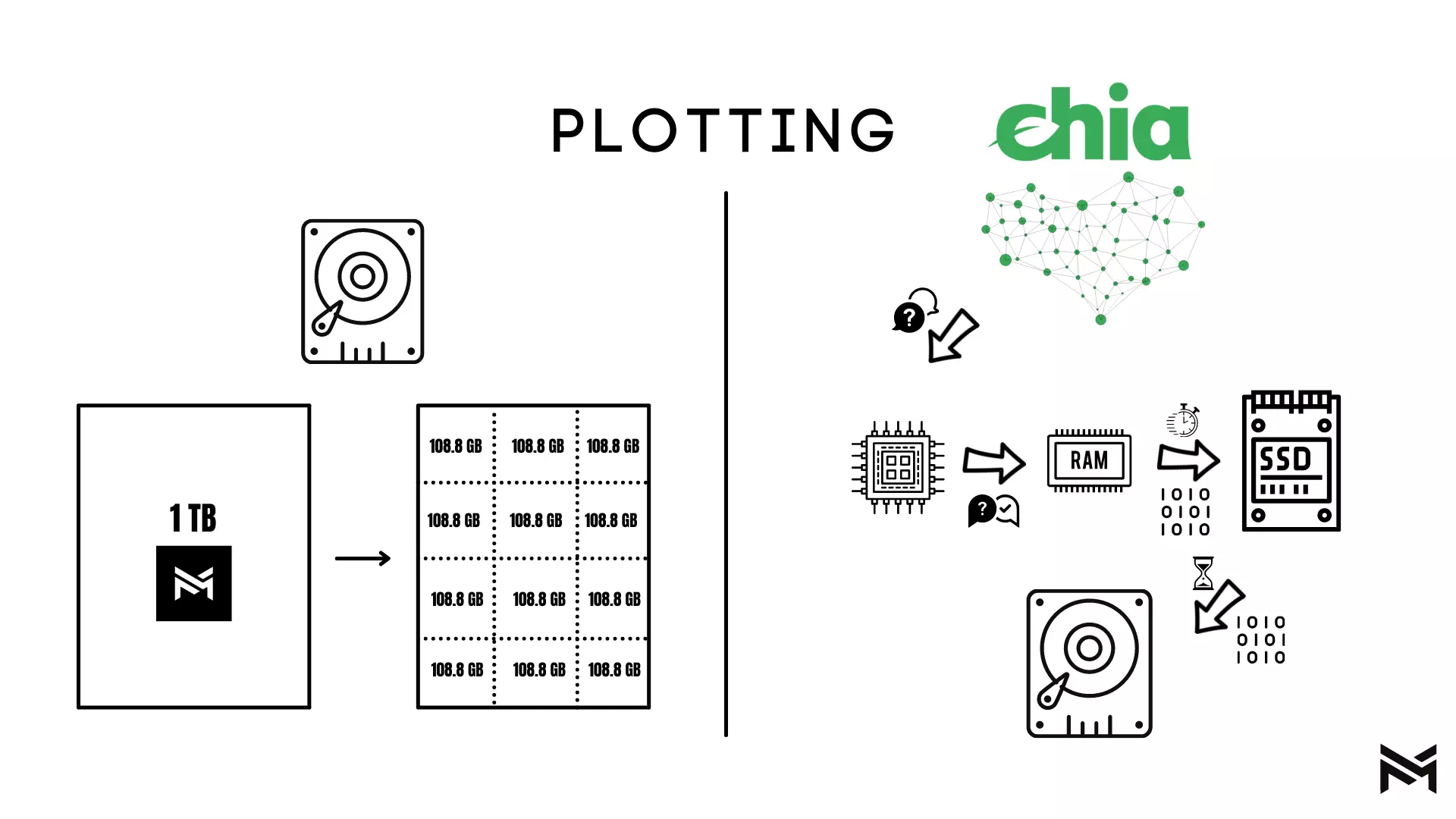 Plotting is the process of putting a bunch of data on a hard drive. It's like doing tons of math and filling the storage device with 1's and 0's. Plotting is further involved in two processes. One is the calculation process and the other is storing process.
There are different plotting sizes in the chia network. Main-net starts from k=32, and it is the most efficient plot size. Other sizes go high, but the winning reward will be the same.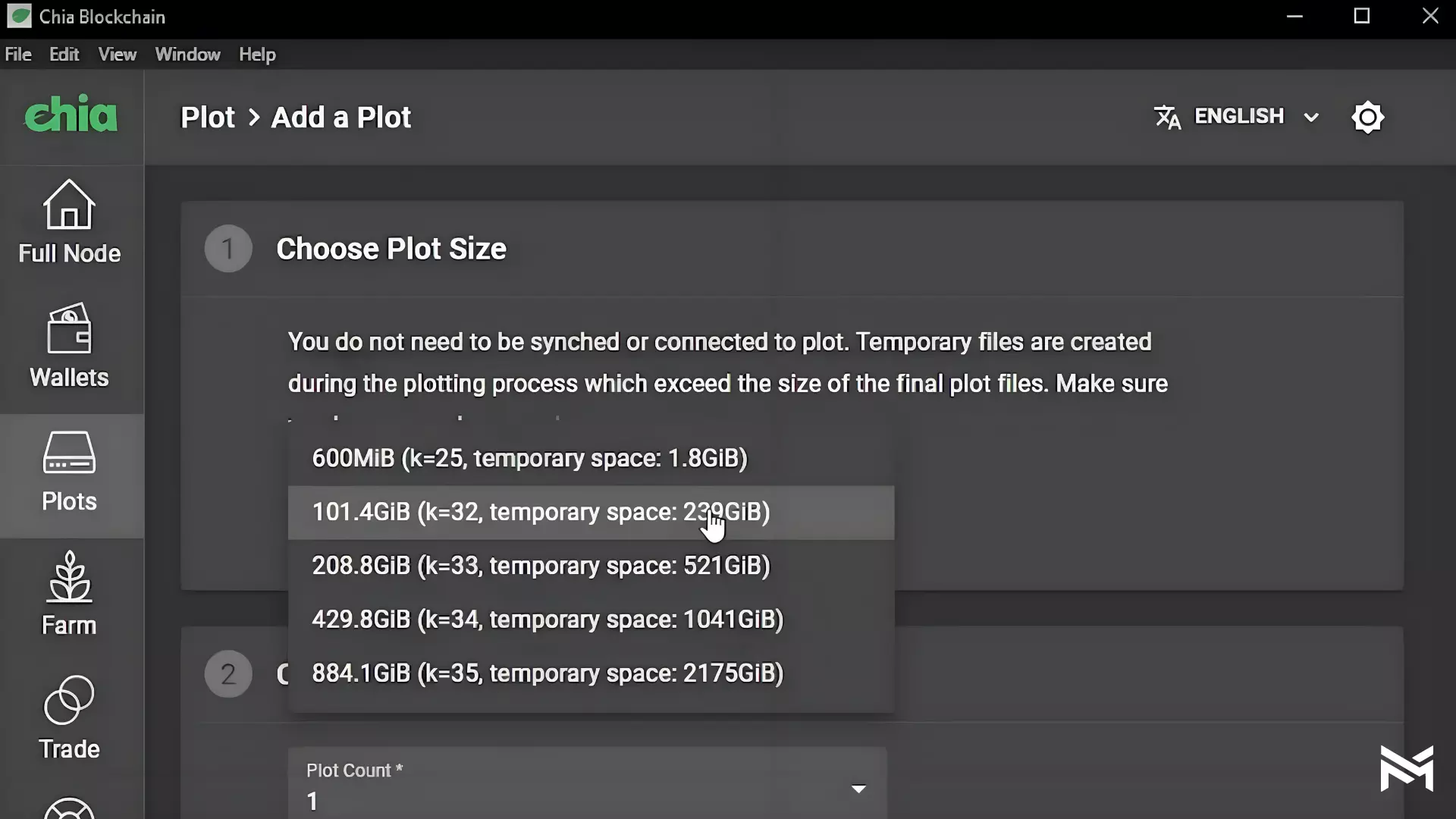 Note that k=25 is a test net and it doesn't earn you any reward.
A k=32 Plot size in chia is 108.8 GB (101.4 GiB).
Calculation Process
While calculating, you need temporary storage space. Here, mostly SSD is used as it is faster and mostly it does not bottleneck the powerful CPU's performance by having quite higher data bandwidth than HDD's. It would require around 256.6 GB (239 GiB) to store Temporary Data (k=32).
For those who are new to tech, SSD is a Solid State Drive and HDD is a Hard Drive Disk. HDD is what most Desktops and Laptops use to store data and it is quite slow with an average data bandwidth of around 85 – 100 MB/s. Whereas, SSDs are included in the modern Desktops and Laptops. It is faster than HDDs with a bandwidth range of around 500 MB/s – 4 GB/s or more. Bandwidth is the maximum amount of data transmitted in a given amount of time.
In the calculation process, HDDs will heavily Bottleneck the maximum performance of the CPU. NVMe SSD's are ideal to use as it has an average data bandwidth of up to 3.2 GB/s which is far better than HDD's 85 MB/s. In 2021, the newest CPUs come with an average maximum bandwidth of around 35 – 50 GB/s.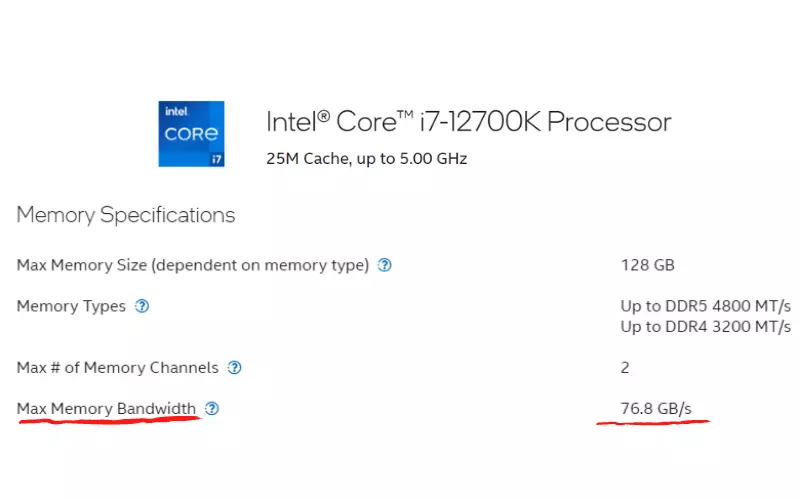 The above picture shows the Maximum Bandwidth capacity of the Latest High-End Intel's i7 Processor. It is Intel's new 12th Gen Processor launched last week. This has a Maximum Bandwidth capacity of 78.6 GB/s.
The bandwidth and Processing Power of a CPU is nowhere related. Bandwidth is the maximum amount of data transmitted in a given amount of time. Processing power is the maximum amount of data processed in a given amount of time.
Also note that while purchasing SSD, look for TBW which stands for TeraBytes Written. This is the lifespan measurement for the SSD. One k32 writes 1.8TiB, which means 1.8 TBW takes place for one plot plotted.
You should never use your root/OS SSD to plot as it can lead to drive failure and loss of booting.
Storing Process
The calculated data is moved to the long-term storage space. The data is compressed and moved to Hard Drive.
Farming
When the blockchain broadcasts a challenge for the next block, farmers can scan their plots to see if they have the hash that is closest to the challenge. A farmer's probability of winning a block is the percentage of the total space that a farmer has compared to the entire network.
Who are farmers?… Then Who are miners?… or What do they do?… These are the questions that may pop into your mind. Let's make it clear…
People who mine chia or the people who make and hold chia plots and receive challenges from the network are called Farmers. Then, 'Miners' is the general term given to the people who mine any cryptocurrency. But in this case, In chia, we call them with the special name – Farmers.
Finally, you may ask… What the heck do they do to get these coins? Well, They do nothing. They just sit, chill, and relax and watch the things going.
After the plotting is done, The plots are connected with the network. Every 10 minutes, 32 Hashes will be broadcasted by the network. Those would be compared with the hashes which are calculated during the plotting process. If the hashes match, you win. Yes, you Win…
FYI: Hash is the random sequence of combinations of alphabets of lowercase and uppercase and numbers. They are generated when data is passed through a function. That Function contains the algorithm to hash the data.
You will be literally winning chia on a luck basis, regardless of how many plots you have. A person with 1 plot could win chia early than a person with 200 plots or more if he has luck in favor of him.
Chia offers farming rewards of 64 chia every 10 minutes. Every 10 minutes, 32 blocks are mined. Each block rewards you 2 XCH. If you win a block you get 2 XCH in your wallet.
Over the first 12 years, the farming rewards will be halved at the end of each 3rd year. From year 13 to infinity, the rewards will remain constant at 4 XCH every 10 minutes.
Evil Downsides
But China mining is leading to a whole new problem: a shortage of storage drives in some Asian markets. As per a recent report, large-capacity hard drives have virtually gone out of stock in Vietnam because Chia miners have gone crazy.
But Chia's demand is encouraging miners to stock up on as much storage space as possible, which is causing high-capacity HDDs and SSDs to go out of stock in several markets. It's also driving their prices up. 
Recently, hard drive maker Galax warned users that mining cryptocurrencies that require excessive volume and speed on storage devices will void the warranty of their HDDs and SSDs. The increasing demand for hard drives is likely to put a burden on their supplies and eventually push their prices.
Even if Chia causes less damage to the environment than its rivals, it's not like Bitcoin miners would just switch to mining the new currency. Instead, Chia is likely to become another currency to be mined. So, as far as the benefits of Chia's low energy consumption is concerned, they are still debatable.
Aside from energy usage, this results in mountains of electronic waste as hard drives will fail faster and more often. More often… Yes, the Life of the average SSD, when used for Chia plotting, is approximately 80 days, compared with as much as a decade of normal usage. This will lead to a massive increase in e-waste pollution in the future.
The demand for cryptocurrencies in China is being generated at a time when the country banned digital currencies. Soon after China's crackdown on cryptocurrency trading, as well as Musk's tweets about the high-power consumption of cryptocurrency mining, the digital currencies market crashed this year. But despite heavy fluctuations in crypto, demand continues to grow with an increasing interest in 'green' alternatives such as Chia.
Why Mining Chia is Useless?
Mining chia individually is nearly unprofitable. Let us consider you have a 6 TB Hardrive. You are like 6 out of 35,000,000 TB. You have a winning probability of 0.000001714285% at the time I'm writing this post. Chance would reduce exponentially in the coming years. So, mining chia individually is useless…
You may think chia pools would make sense. FYI: Pools are the group of people who mine together, combine all their plots, and will share the profit according to their contribution in plot size.
Chia pools are good, But Chia Price is not growing. In the mid of May 2021, Its price skyrocketed to 1600$, But it crashed very badly to around 200$ at the end of June. And then it is continuing the very bad trend still the time of writing the post. Currently, Its price is around 125$.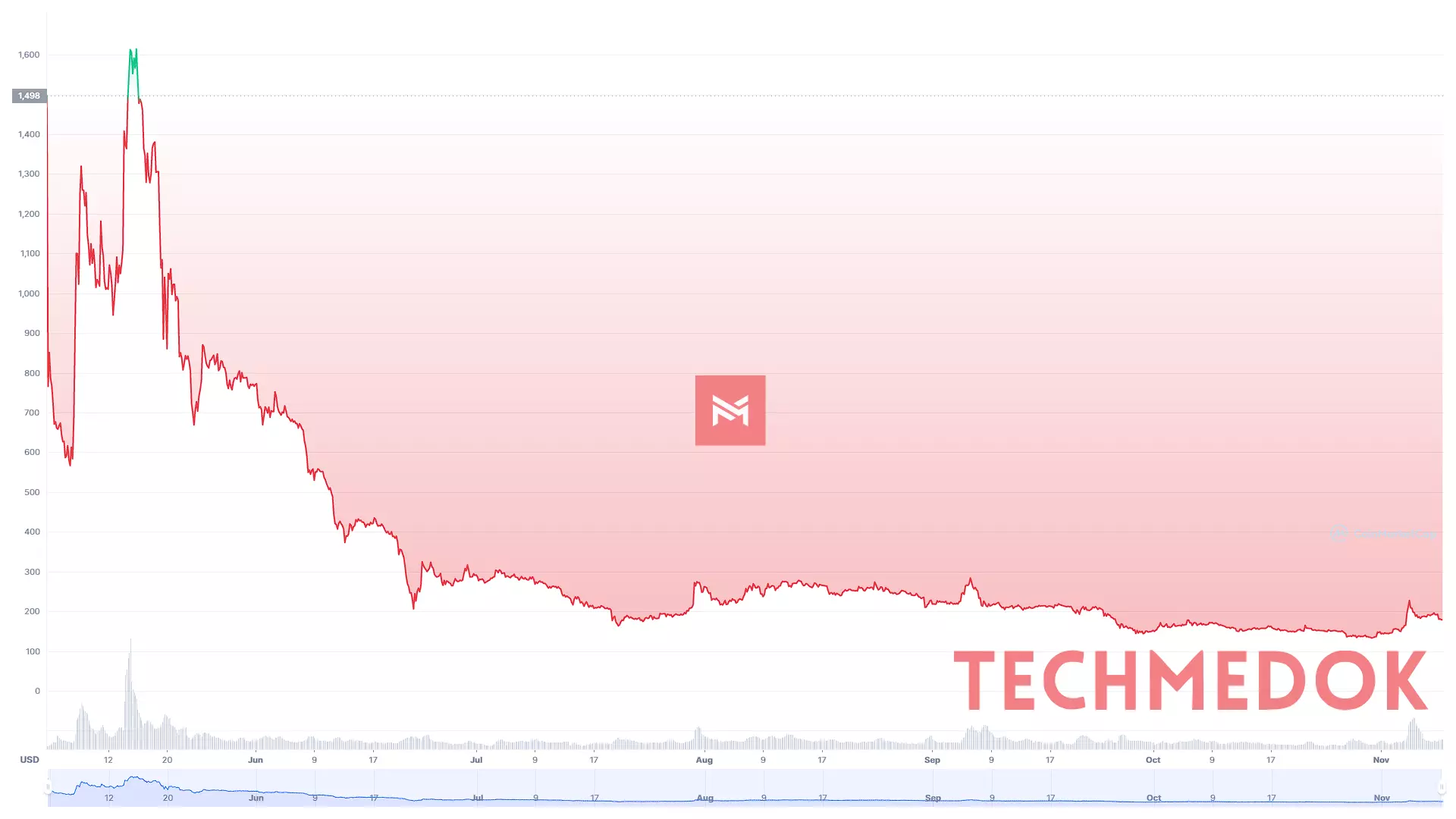 Many reports that even joining a pool and mining is incurring them a loss. Operation costs are more than what they earn from pools.
My Final Verdict is, Mining chia is useless as of now and it is not the so-called "Green Crypto".
Disclaimer: The information provided on this website is for educational purposes. It does not constitute investment advice, financial advice, or trading advice. Techmedok does not recommend purchasing any cryptocurrency. Crypto markets are highly volatile and crypto investments are risky. Readers should do their research on cryptocurrencies and consult their financial advisers before making any crypto investments.