Cryptocurrency crime had a record-breaking year in 2021. With a new report findings, scammers took $14 billion worth of crypto last year. That's nearly twice the $7.8 billion taken by scammers in 2020.
These scammers use convincing techniques and constantly change their scamming tones to bait people.
Telegram is the Wall Street for Crypto Scams. Scammers may approach you if you are in any large public groups or in any crypto-related groups.
They use various scripts to convince you. From asking you invest for 2x returns within 24 hours to asking for the seed phrase of your crypto wallet to provide a bonus.
Note: If you receive any message or email from anyone who is claiming to double your holdings or providing free coins or stuff related to this, Report and Block them. Please don't reply to them. These conversations in the article are made anonymously following the best security practices.
Recently I was approached by a person with an account named "Solana Support". He asked whether I received my bonus.
A few weeks ago, I joined an official crypto group of Solana. FYI: Solana is a cryptocurrency.
Scammers are active there looking for new members of the group and DMing them with convincing words and scamming them.
Here, I was approached by the scammer and he was asking about the wallet which I use. He needs to know the wallet which I use in order to infiltrate with the seed phrase which I should be providing him in the later part.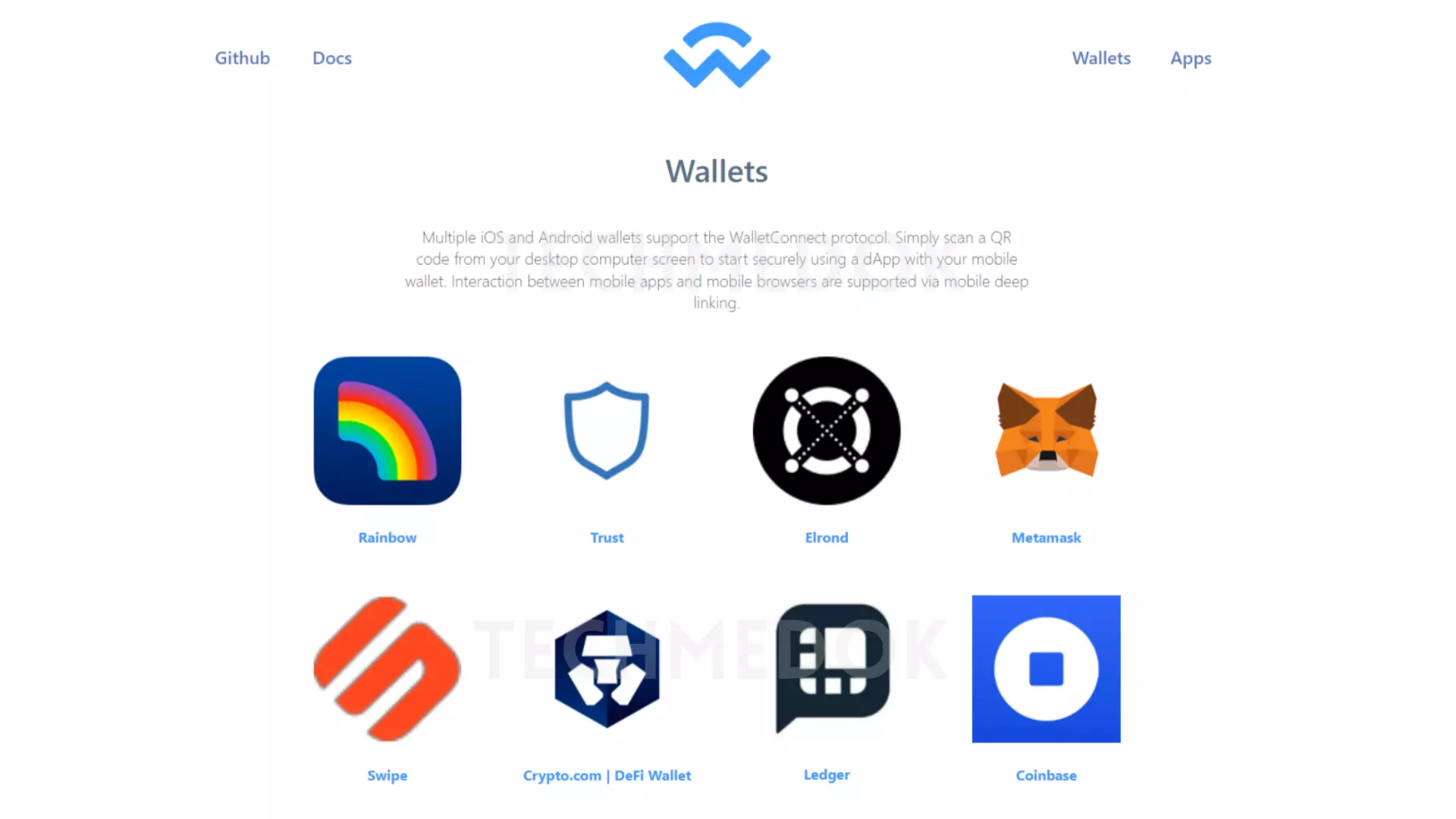 He sent me a link to a site that asked about the wallet which I use. But the sad part here is that the wallet which I use is not listed.
He ask me to pull up a request and also suggested me to move my funds to Trust Wallet. It is also a kind of crypto wallet.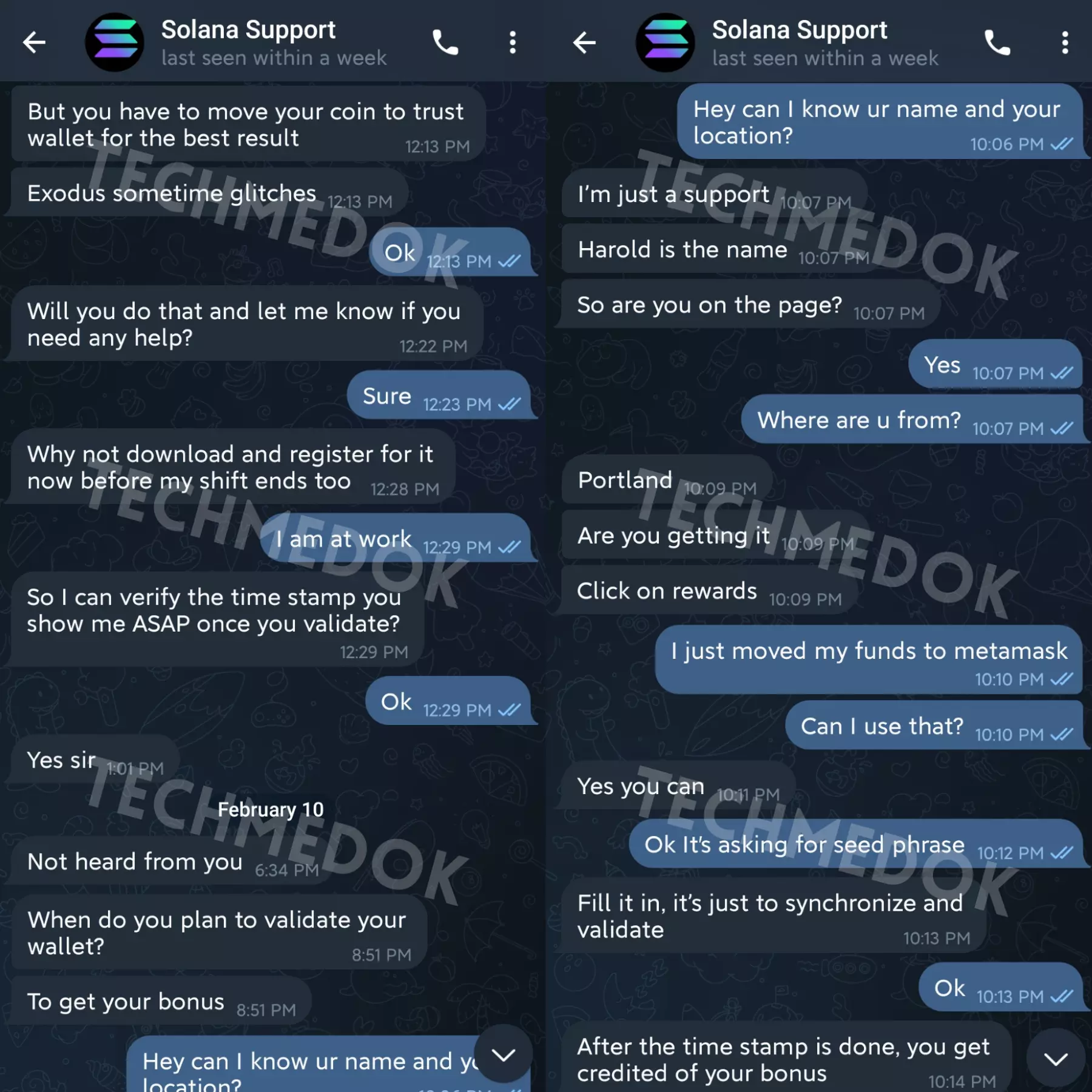 He urged me to do the process quickly. I was making him wait for a long time not responding to him.
Later I asked for his name and location. And he replied, "Harold is the name". 🤣🤣🤣 also said he is from Portland.
I told him I moved my funds to Metamask. FYI: Metamask is also a kind of crypto wallet.
The site which he sent asked for my seed phrase. Seed Phrase should not be shared with anyone at any cost. He said it is just to synchronize and validate. WTF does it mean 🤣?
They just use these fancy terms to make them seem legit.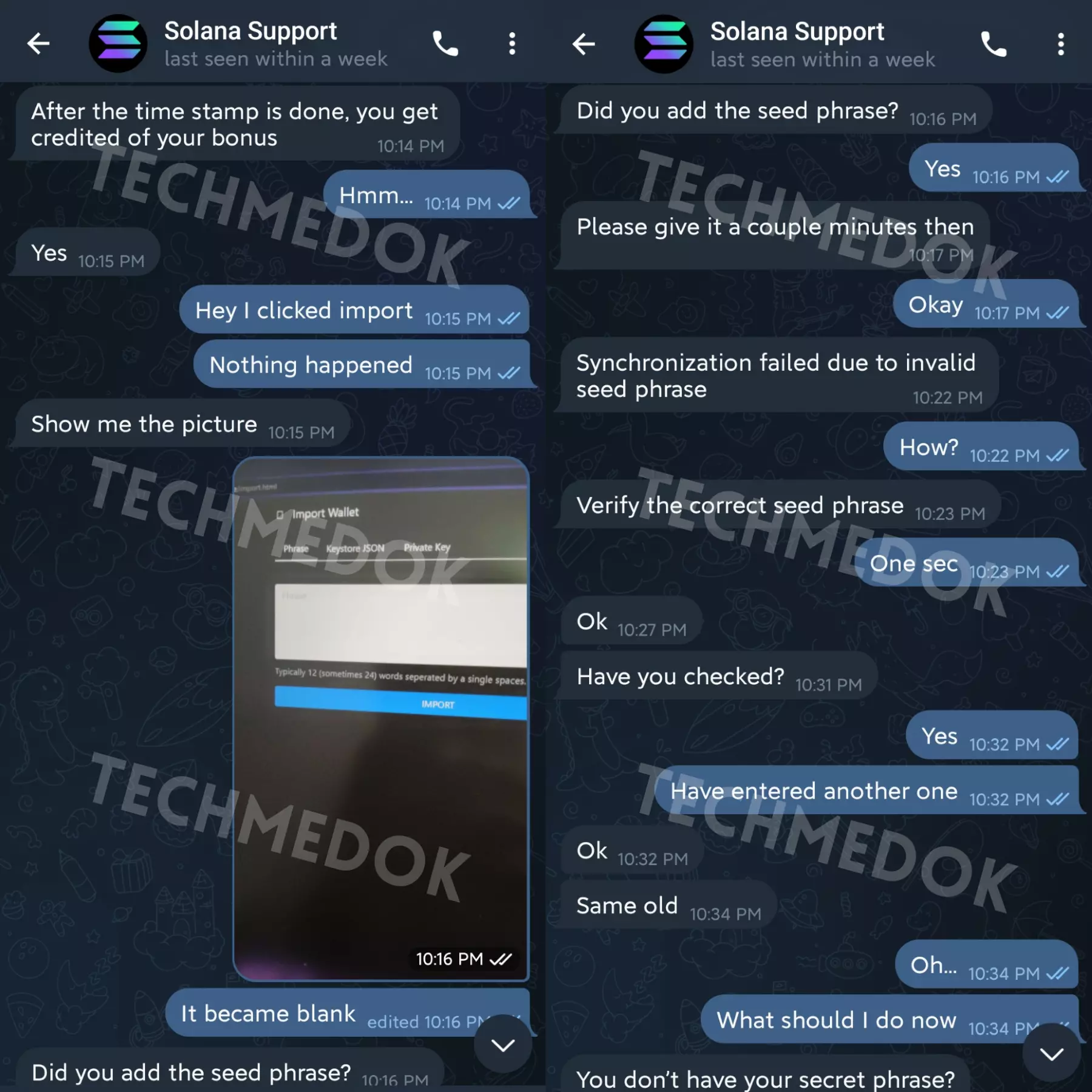 I just entered a random text to see what happens. After clicking I got the same page again.
But in the background, the form sends the entered data to a database.
Later on, I just used some random 12 words and submitted the form, and pinged him.
He replied that it is an invalid seed phrase. 🤣
I again used some other words and submitted. He replied the same again.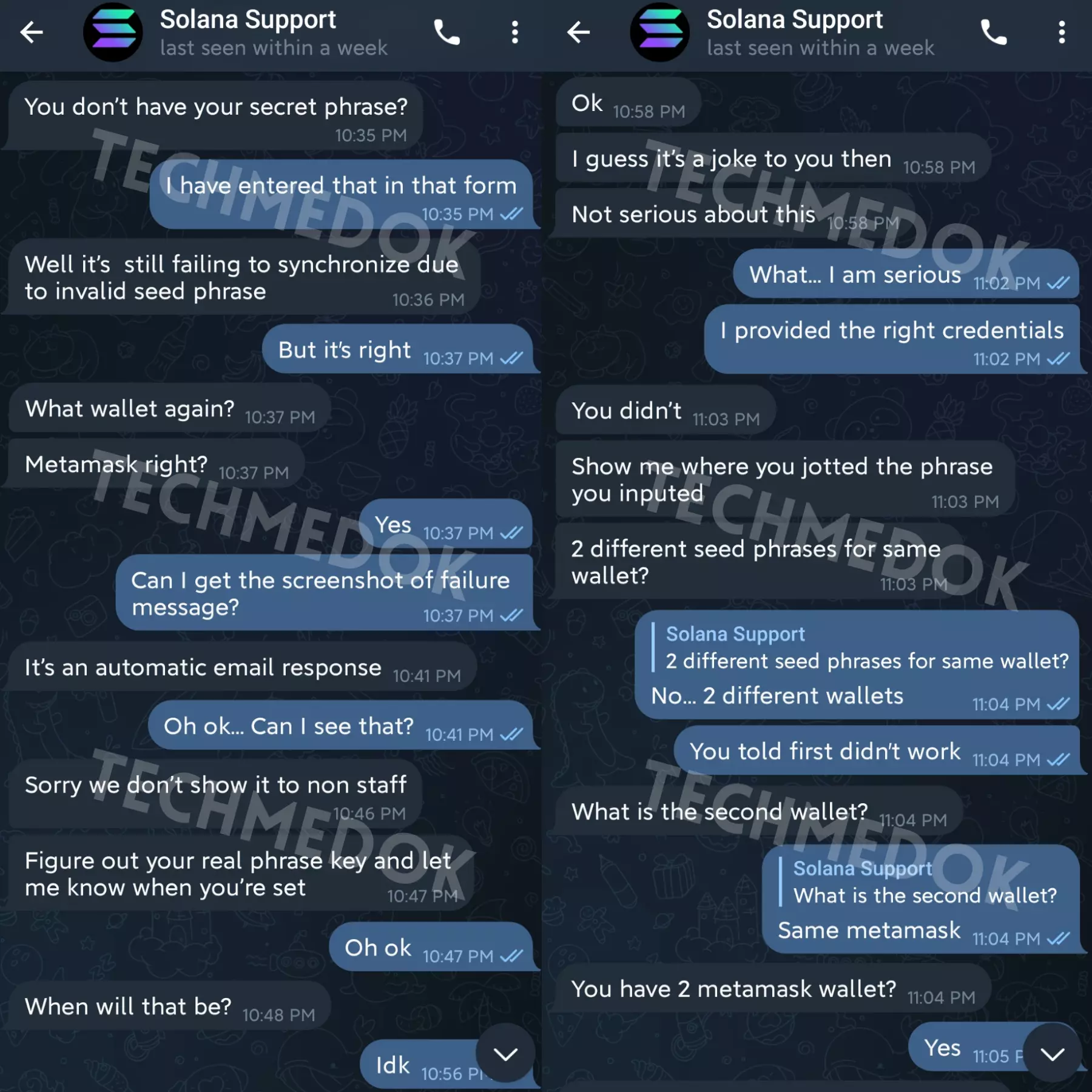 I asked for the screenshot of the failure message that he got but he replied that it is an automated reply and not to be shared with outsiders.
He then got frustrated and started questing me a lot.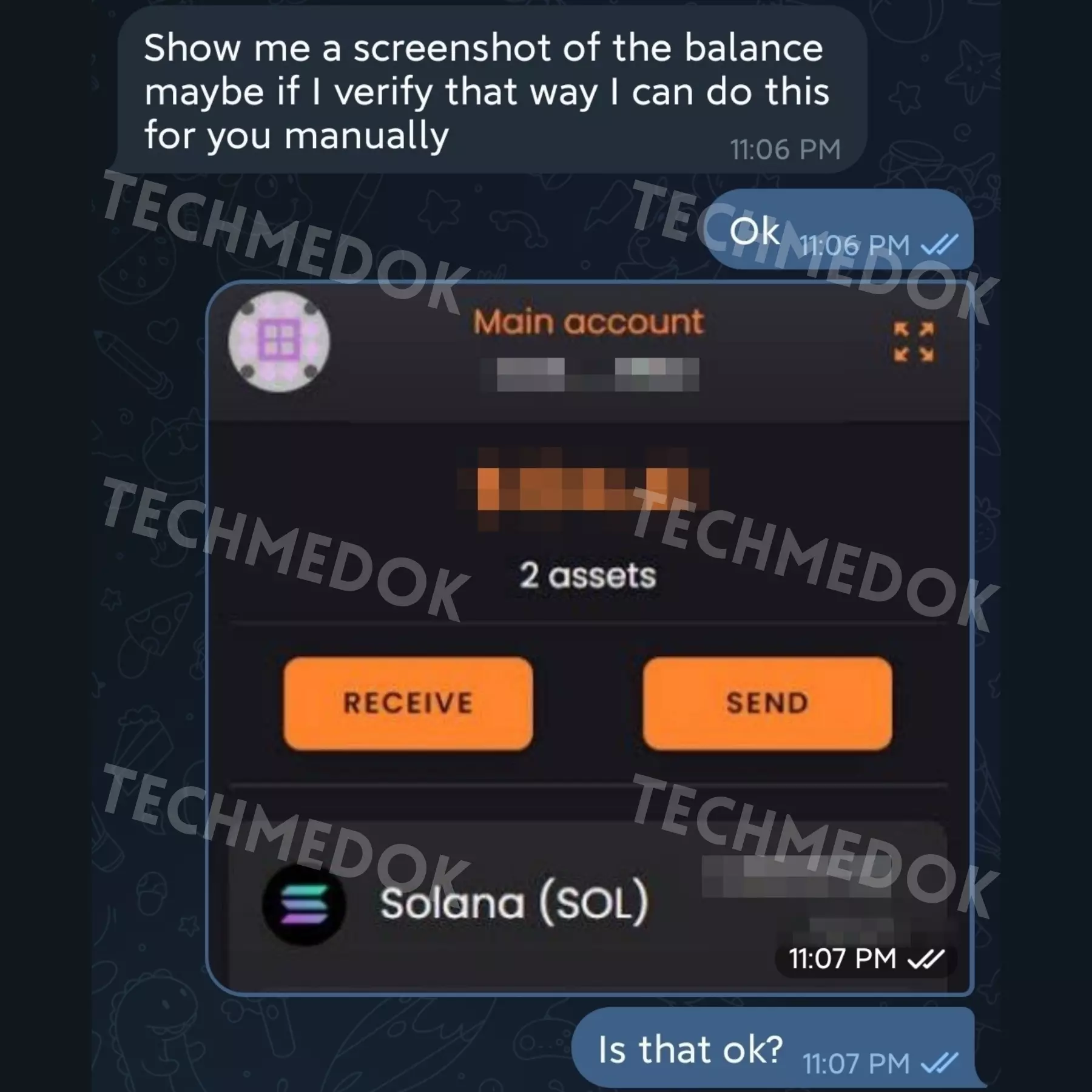 He finally asked for the screenshot of the balance.
I was not interested in sending him my real portfolio screenshot. So, I surfed the internet for the pictures and edited a bit, and sent him.
He again started asking for the seed phrase. And I stopped replying to him.
And this is the end of the article and I hope this would help you in staying away from these people. Please share this article with your friends so that they could also be aware of these people and stay away from them.
At the time of writing the site is down. But I managed to take screenshots earlier to present them here.
The second part of this series would be investigating the site and the person who is behind this particular account, where he is from, and also his history. The second part would reveal a ton of details about the person. Stay Tuned…
Subscribe to our Newsletter to get updates with our Blog posts and also with the weekly tech news and stuff. Also follow our social handles (Instagram, Telegram, Twitter) to get instant updates.
Thumbnail Credits: Photo by olieman.eth on Unsplash
Download Thumbnail: 4K – 3840*2160 – PNG
Disclaimer: The information provided on this website is for educational purposes. It does not constitute investment advice, financial advice, or trading advice. Techmedok does not recommend purchasing any cryptocurrency. Crypto markets are highly volatile and crypto investments are risky. Readers should do their research on cryptocurrencies and consult their financial advisers before making any crypto investments.