Yep, its that time of the year.
Apple has announced the event dates for the launch of its new products. Products to expect upgrades range from the iPhone and the Watch to the iPads and even Macs and AirPods.
Its contemplated to be a long one, kindly use the Contents list above (left for desktop users) for the impatient reader in you. Otherwise, yep, its EVERYTHING to look for this fall event before Tim Cook greets you with a Good Morning
So, when its held? How can we witness it?
The "Wonderlust" event will take place on 12th of September,2023 at 10:00 AM PT (10:30 PM IST) in the famous Steve Jobs Theatre in Apple Park, California. Similar to the previous events in the recent years, the event will be livestreamed in Apple's website, Apple TV service and Apple's YouTube Channel. Link for the YouTube livestream is presented at the end of this article.
Please tell us whether the new iPhone are getting some worthwhile updates ;(
As the EU mandated and rumour mill suggesting, the new iPhone 15 series are the first iPhones to get the USB-C port, thereby resting the decade-and-more old Lightning port to peace. So, expect these devices to charge at respectably faster speeds (33W) with USB-PD(Power Delivery) goodness like the iPad and MacBook. However, in true Apple fashion, the USB-C used in iPhones might get MFi-ed and the faster USB-C 3.2 Gen2 (rumoured) or USB-C 4/Thunderbolt 3 (still rumoured, even if Apple can do it) standards will be reserved only for the Pro series models, thereby the standard models topping only at USB-C 2.0 or 3.0 standards (yes, rumoured)
(⊙_⊙), That's it?
Apple might trickle the pill-shaped, shape-shifting digital camera cutout AKA the Dynamic Island introduced in 14 Pro series down to the standard versions for the 15 series. One can also expect even more thinner, symmetrical bezels around the display throughout the mobile lineup. It is also rumoured that Apple might drip down the 120 Hz refresh rate ProMotion display tech to the standard series which were irritably reserved for the Pro lineup for past 2 generations.
Also, expect Apple to enable reverse wireless charging but only reserving faster power sharing to other iPhones and AirPods (with MagSafe case) as they also now support MagSafe.
As per tradition, Apple might bring more colours for the standard 15 series. Personally, I'd wish for a mix of vibrant colours from the Xr and pastel shades from the standard 11 🙂
That means nothing exclusive for Pro devices this time, right?
Just like the 14 Pro series, the "monumental" upgrades are expected to be gatekept exclusively for the 15 Pro series. Things are so "colossal" that newsmongers suggest that Apple could end up renaming the 15 Pro Max as the "15 Ultra" or similar. Upgrades start from a titanium frame, a first for an iPhone, helping the Pro phones to reduce weight significantly compared to its older siblings with stainless steel frame. Thereby, new colourways are in the horizon (Note the Apple Logo in the Wonderlust event promotions) while Apple might kill the coveted Gold drip from the Pro series completely (sorry, china). Also, Apple might continue the same deed of gatekeeping the latest A17 Bionic SoC to the Pro users just like 2022. Along with the USB-C upgrade mentioned earlier, another spot where Apple will finally come equivalent with its Android rivals is with the introduction of a Periscope-lens based telephoto camera which could go upto 6x of optical zoom. But sadly, this is alleged to remain exclusive to the Pro Max version of the series for 2 whole generations (Thanks to space constraints). One can also ensure that these devices could be more self-repairable by becoming the first Pro series phone to get the back-opening glass (Fingers crossed, expect the back glass replacement costs to go down from that blimey $600). For kicks, expect these devices to sport the same IP68 resistance ratings but upto a whopping 8 metres of survival depth in water, 2 metres more than its predecessors and 5.3 times more than the IEC standard followed by the whole industry! How's this possible? By killing the power button and volume rocker with solid state buttons and yep, killing the sweet Mute Switch with the Action Button, similar to the Watch Ultra. However, the Solid-State button is put to rest for now due to supply chain issues. *Phew* but a moment of silence for the iconic teenaged Mute Switch if it is really getting axed 😞
RIP, Gold 😞 (Image: Apple)
Hmmm. That's quite a lot. Am I have to pay even more?
As the bush telegraphs suggest, the Pro models will face price hikes from $100 to a steep $200 in starting prices itself since the introduction of the iPhone X in 2017, thus starting at $1099 and $1299. But the Vanilla 15 series will witness no price hike curses as it saw that last year, maintaining the same $799 and $899 starting tags. Note that iPhone Xr was priced at $749 but 11 to 13's pricetags were set at $699 (the Mini version for 12 and 13 series)
Good news for Indian buyers, as the regular 15 series is now being manufactured in southern state of Tamil Nadu, expect the taxes to be stripped off, thereby pray for even lower prices in the country🤫 (But its Apple, so fingers crossed again 😞)
Yuh, let's talk about the Apple Watch.
It's gonna be another incremental year for the Watch with the new Series 9 moniker. It'll get the new S9 SiP with A15 Bionic's 5nm fabrication tech for better battery life and more processing power. All those Barbie fans who got super enchanted this American summer can rejoice even more as Apple might bring the Watch in pink colour. Apple might also bring new bands with magnetic buckles while killing leather strap bands in the name of sustainability goals. Expect new small, minimal packages for the new Watches, no Watch SE as it got updated last year in its 2 year update cycle and a Watch Ultra in dark-shaded Titanium frame for those thick wrists which hate shine/shimmer. Still, no word on the Qi Wireless charging in its 10th generation, technically.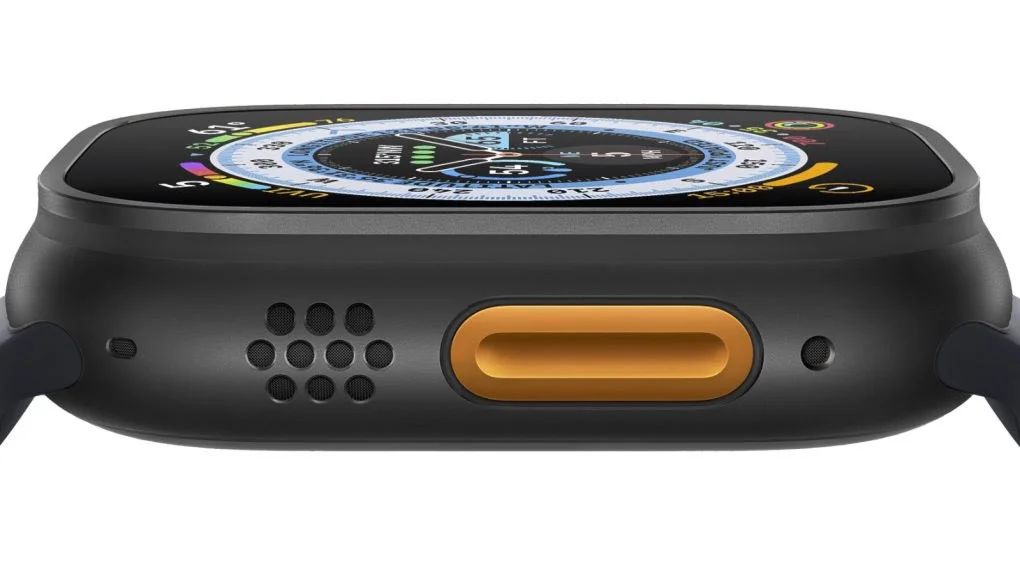 Apple Watch Ultra: Dark Theme Edition (Image: ShrimpApplePro)
iPad will never be a true computer, but let us not forget about it.
For this fall, as per Apple's tradition every year, the vanilla iPad will get an upgrade with more powerful and efficient SoC, better battery life and maybe an Apple Pencil Gen 1 with USB-C charging end (pray for me…) but the niche upgrade goes to the iPad mini with newer SoC and better display with scarce storage options. Another expected upgrade could be the iPad Air with the new M2 SoC and new revamped keyboard folio case which could be lighter this time (Don't forget the storage options). iPad computer-ists who are eagerly waiting for that 14″ iPad Pro, I'm sorry to announce that Apple has scrapped it. Any idea on Micro-LED Displays? Don't think about them until 2024-2025. Also, they tend to debut first in the Watch unlike the Mini-LED which was first introduced in the iPad Pro 12.9″ . So, it's going to be another sore year for the iPad this time.
iPhone-> USB-C, AirPods-> Lightning?!
Apple might either launch the AirPods TWS earbud models afresh with a USB-C port in the case or like the way they did with the AirPods 2, just give an optional USB-C case to choose (maybe with extra fee, Apple being Apple) while purchasing new or purchasing separately for your existing pair. If launched as a brand new product, expect no new upgrades for the launch other than the USB-C. If possible, Apple might bring the H2 Chip present in the AirPods Pro to the Vanilla AirPods.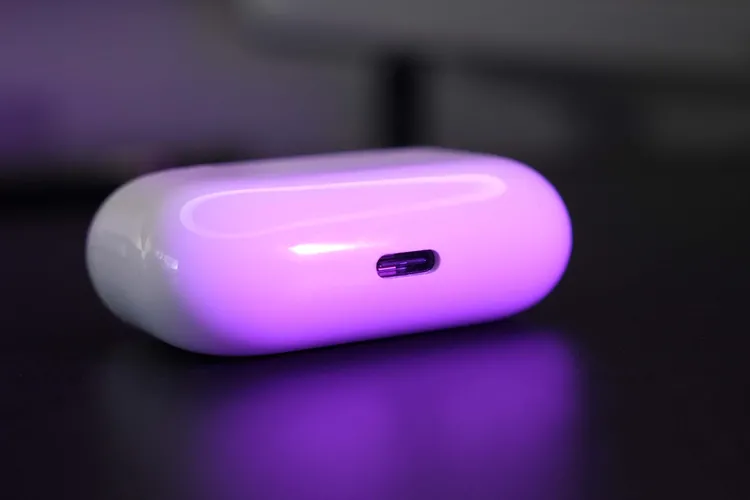 It's happening! (Image: Ken Pillonel)
Update for the AirPods Max is long overdue with riddled ANC and bad OTA updates. The H2 Chip will trickle down to this too, along with USB-C and better battery life and exorbitant price and maybe, lighter mass compared to the OGs. But the real deal comes in 2024, where the Cupertino-based company might bring affordable version of AirPods at a $99 pricetag
PSAs for the existing Apple consumers out there.
Talking about the OSs these new products are gonna run, With a new iPhone and watch coming, we'll probably get the release dates for iOS 17 and watchOS 10 during Apple's upcoming event. As for iPadOS 17 and macOS Sonoma, we might not see them until later this fall, in line with Apple's recent pattern of launching them in October. But the software betas are running for all the operating systems mentioned here
For the iPhones supported, iOS 17 comes with a number of small but meaningful upgrades, including StandBy mode, voicemail transcriptions, and a Journal app. Also get OTA updates to your AirPods like Adaptive Audio and updates for other Apple apps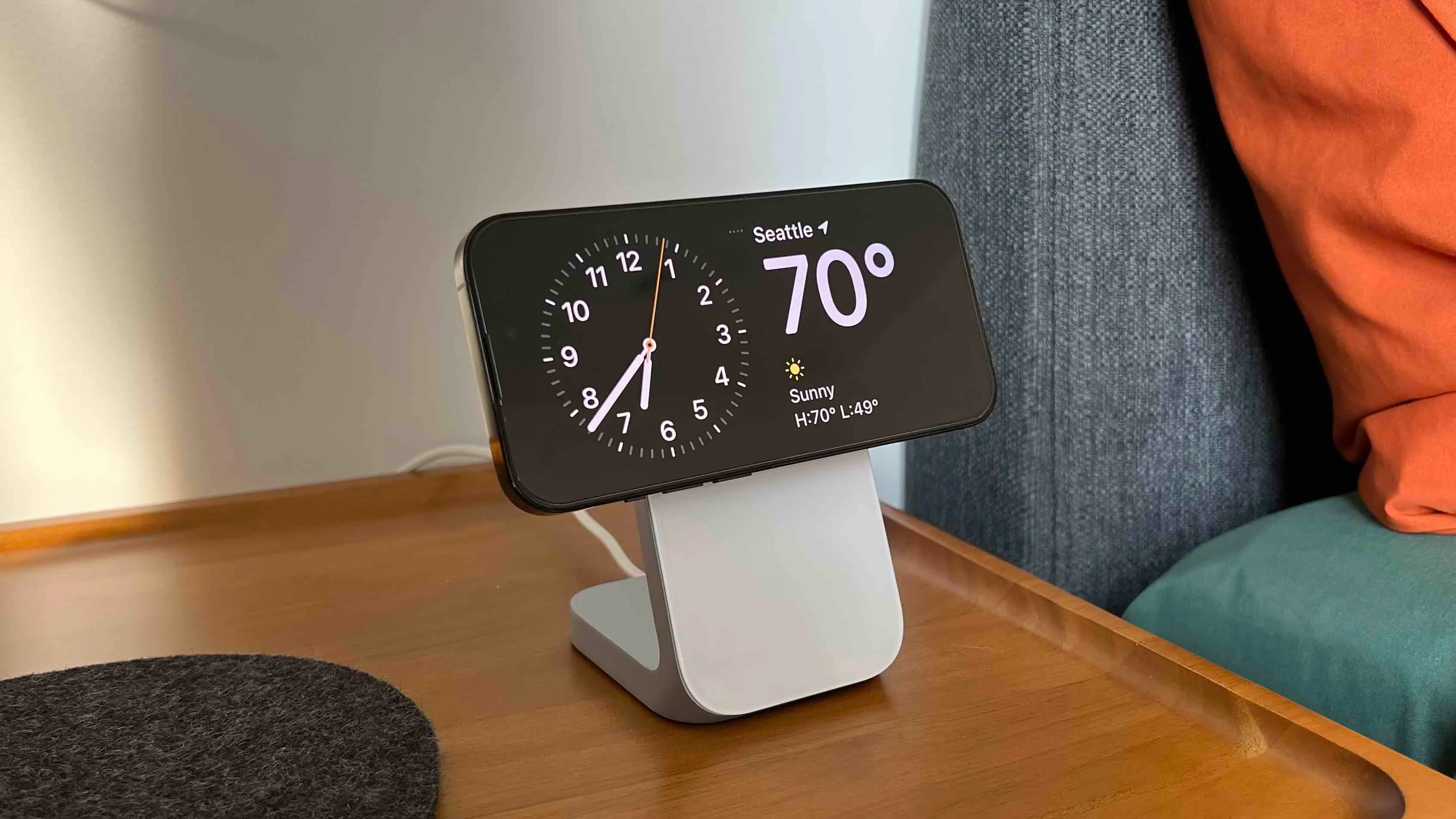 The StandBy Mode in action. (Image: 9to5Mac)
For the iPads supported, iPadOS 17 is adding some iOS and macOS features like personalized lock screens, interactive widget, the Health app, and support for external USB webcams and cameras. Apple is launching an update to Stage Manager as well, which finally lets you customize the sizes and orientations of each window on your screen.
For the Watches supported, watchOS 10 will also incorporate widgets (not seeing a trend yet?) that should give you quick access to various apps. There are also new topographic mapping features, mood logging, and a couple of new watchfaces.
For the Macs and MacBooks supported, macOS Sonoma adds widgets, a game mode, and profiles on Safari.
Anything else? *awaits for a Mac*
In the Mac world (pun intended), the long overdue M1 'rainbow' iMac might get the M2 SoC finally with better display, maybe with more I/O (but has that thin profile :l ) and more lovely and vibrant colour choices to grace your computer room. The other overdue, the abominable 13″ MacBook Pro could get refreshed with better display, design that match its elder brothers, killing of the Touch Bar (finally), and maybe even a variant with the M2 Pro SoC along with the normal M2 SoC or with the M3 series of SoCs. Apple might revamp the 13″ MacBook Air if the M3 SoC gets launched. Most probably, cross your fingers for these to get introduced in this 'Wonderlust' event or expect these to launch in the last quarter of this year.
While the big 32″ iMac won't appear until 2024, Apple is working on to resurrect back the super portable MacBook series which will sit under the MacBook Air series with thinner, fanless chassis, smaller displays and maybe older M series SoC to power them with affordable prices. Won't appear until 2024 is born.
Irrespective of all these enthralling launches on the horizon, all eyes are still on the $3,499 Apple Vision Pro, which is set for release early next year. We're likely to see some updates in the months leading up to its launch.
Yeah, we will be covering the Wonderlust Event on the event night itself so stay tuned with us