Let's talk about upgrades and some murders, shall we? (RIP, 13 Mini)
Apple's September event has started with the same creation of messiah complexity, following with multiple murders for the sake of "Mother Nature" goals and obeying to law enforcements and ending with (spoiler alert!) untouched price tags, much to everyone's surprise. This is the A-to-Z on today's (or tonight's, from where I type this) Wonderlust event.
Apple Watch Series 9 gets a neutral update with fingertip witchcraft
It's another incremental year for the Apple Watch since FDA approval in 2018. This time, it gets a new Pink colourway (Apple's backhandshake with Mattel) with the new 5nm, 5.6 billion transistor-ed S9 SiP carrying a larger 4-core Neural Engine that now enables Siri to work completely offline with better dictation ability and access to Health data in English and Mandarin. Ultra Wide Band (UWB) chip is now upgraded to 2nd generation (also available on new iPhones) that enables better iPhone pinging using Find My and automated media suggestions and playback transfer if one's nearby to any HomePod. The display for the Series 9 is trickled down from the Ultra, now going as low as 1 nit upto a blistering 2000 nits of peak brightness. The party trick that the new Watch gets this time is called "Double Tap" where similar to the big boy Vision Pro, Apple uses the finger tips of both index finger and thumb's movement recorded by the Watch's array of sensors (accelerometer, gyroscope and optical HR sensors to be precise) and processed by the same Neural Engine in the S9 SiP. When these 2 fingers are just 'tapped' together, the 'taps' are detected and actions are done accordingly such as, snoozing alarms, attending and ending calls, starting workouts. Customisation remains unknown and this features are available starting next month only.
Apple proudly announced that the Watch becomes the first product to become completely "Carbon Neutral" (got the pun from the title?) but it works only on a particular combination of watch band(Sport Loop only) and by killing Leather bands completely. Apple say that the Watch is now completely manufactured with only clean electricity and usage of 100% recycled cobalt in the battery which has no improved battery life for this series and 100% recycled fibre for the new, minimalist packages for more shipment in same scale and less resources per box. Talking about leather being culled down (pun intended), Apple has substituted with a new material called FineWoven which has a suede-like texture in a leatherette vibe and even made Hermes, the leather-galore Birkin bag maker, to embrace this weird named material.
Apple Watch Series 9 starts at ₹41,900 ($399), available in 41mm and 45mm sizes and in aluminium (5 colours) and stainless steel (3 colours) finishes for the case. One can start order now but deliveries start from 22nd September onwards. The Apple Watch SE stays the same in the lineup but now with aforementioned "Carbon Neutral" rewards at the same ₹29,900 ($249) but new orders deliver on the same mentioned date, thanks to the new packages. But more sustainable Qi Wireless is missed.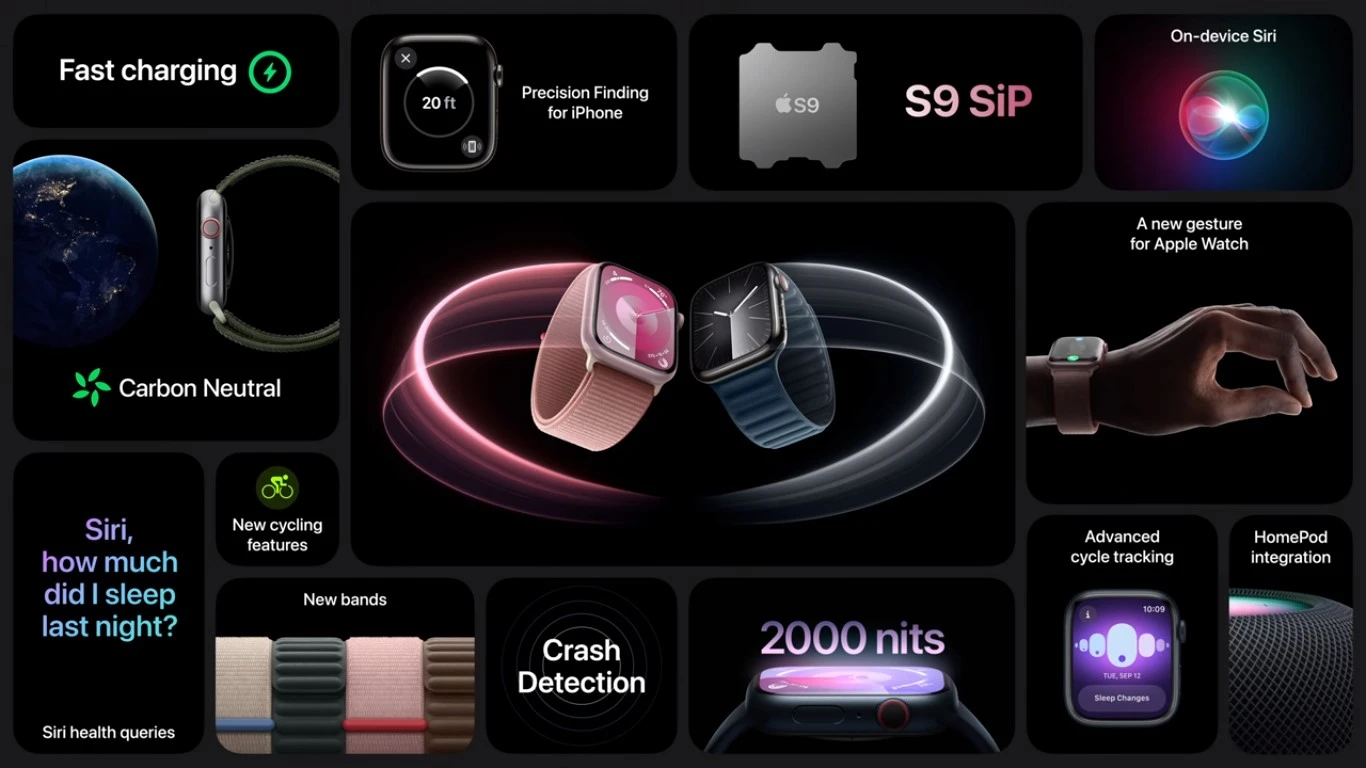 Apple now use mudras to control the Watch 🙃
Apple Watch Ultra: Incrementally complicated, galore!
The Apple Watch Ultra becomes Ultra 2, while just being 10 days away from becoming 1 year old as a product. The anticipated dark titanium colour was abetted false, thereby making this update even more incremental than ever. It shares the S9 SiP (along with all the new features) and all the "Carbon Neutral" gala from the Series 9 (Alpine and Trail loop only). But the upgrade to the product is the already bright display, from that blistering 2000 nits to vision-glaring 3000 nits. It gets the new Modular Ultra watch face which is flooded with every possible metric as a complication the moment you wake the screen up. The 'red' night display mode now enables automatically using the ambient light sensor. Battery life remains unchanged in the 100% recycled cobalt in the battery, standing at the same 36 hours. Apple Watch Ultra 2 costs ₹89,900 ($799) with same size and now duller, carbon neutral watch bands. Orders are taken now and deliveries start by 22nd September.
watchOS 10 will be available for Apple Watch Series 4 and later on Monday, September 18, and requires iPhone XS or later running iOS 17. Not all features are available on all devices and in all regions.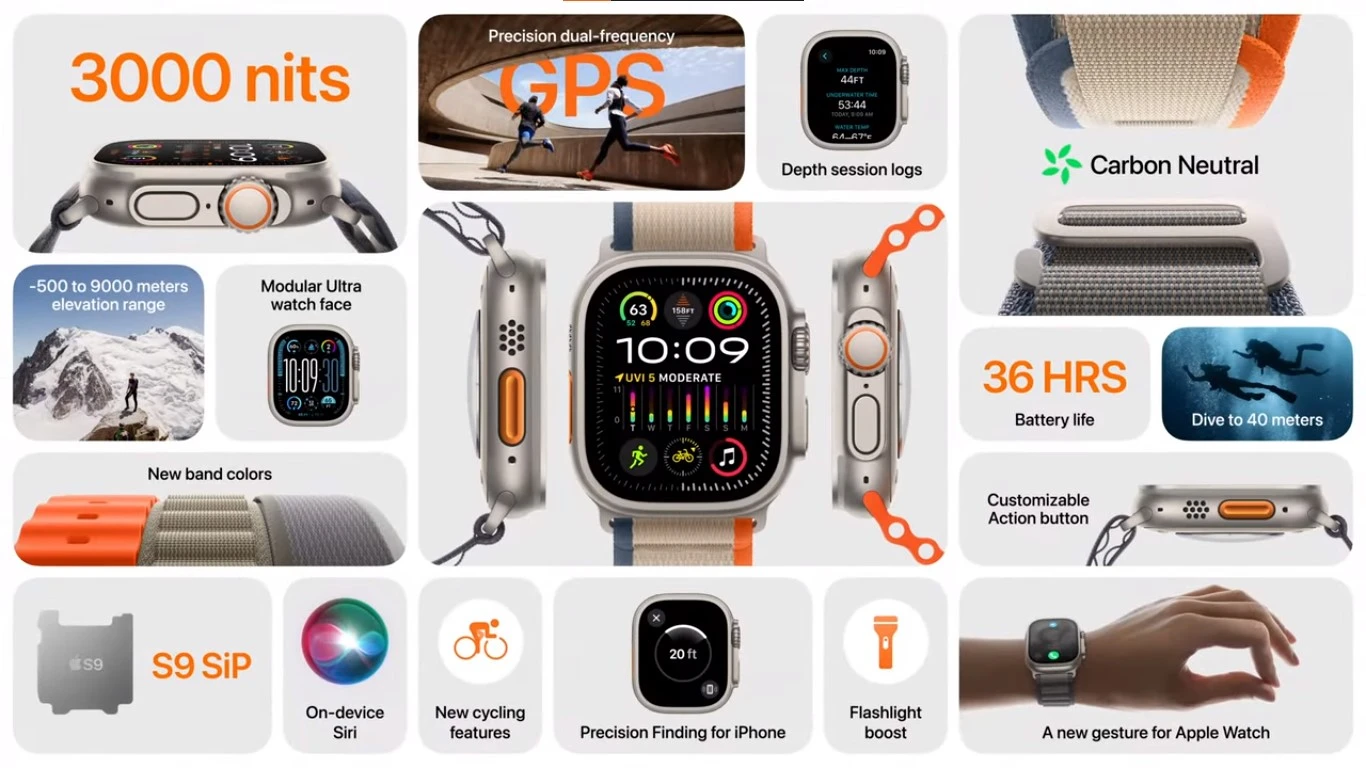 That "Modular Ultra" Watch is for the number nerds 😁
iPhone 15: Incre-mentality continues… with EU's adamancy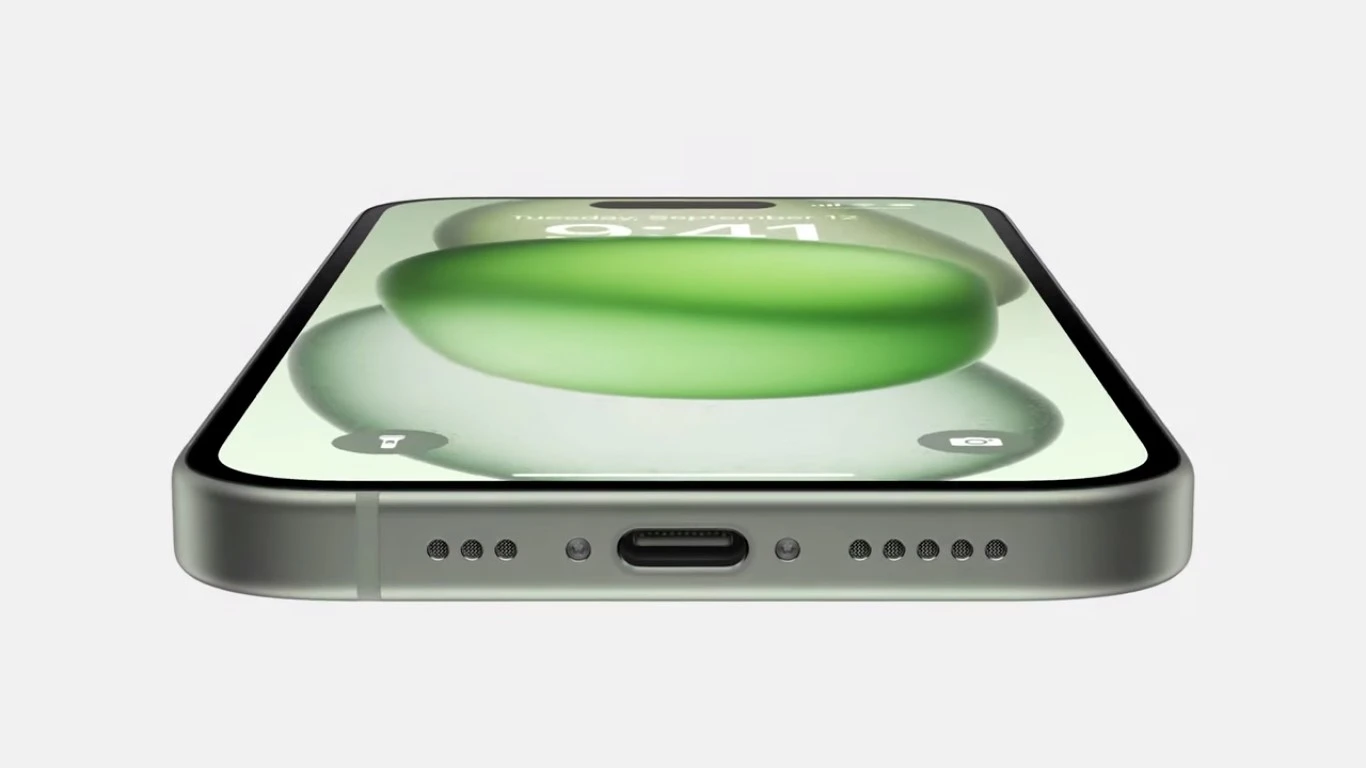 Yep, it finally happened. Apple rested the Lightning Port down to peace as the EU mandated.
The anticipated iPhone 15 series is finally here with more incremental updates and older CPU but at the same price as last year. The polyjuice-potion consumed pill cutout AKA the Dynamic Island is finally here, thus embarking the journey of being the official iPhone forehead for the years to come. The Dolby Vision capable OLED Super Retina XDR now gets even thinner borders and upto 2000 nits peak brightness and 1600 nits sustained HDR brightness. So, get ready to get your eyes obliterated while watching HDR reels. Display sizes remain the same 6.1″ and 6.7″ Plus similar to last year. New colours are here (yes, including pink to match the watch) but the Product(Red) is absent this time. Matte finish is used after a long time and edges of the rear glass are contoured this time for a comfortable hold of the device. In the sustainability department, Apple has used 100% recycled cobalt in batteries and copper in cooling layers and induction charging coils. Battery life stays untouched. Just like last year, the latest SoC is not given for the 15 series and so, the 15 series gets the A16 Bionic chip from the the last year's 14 Pro series. Its powerful than most Android devices but still, gatekept from the Pro series.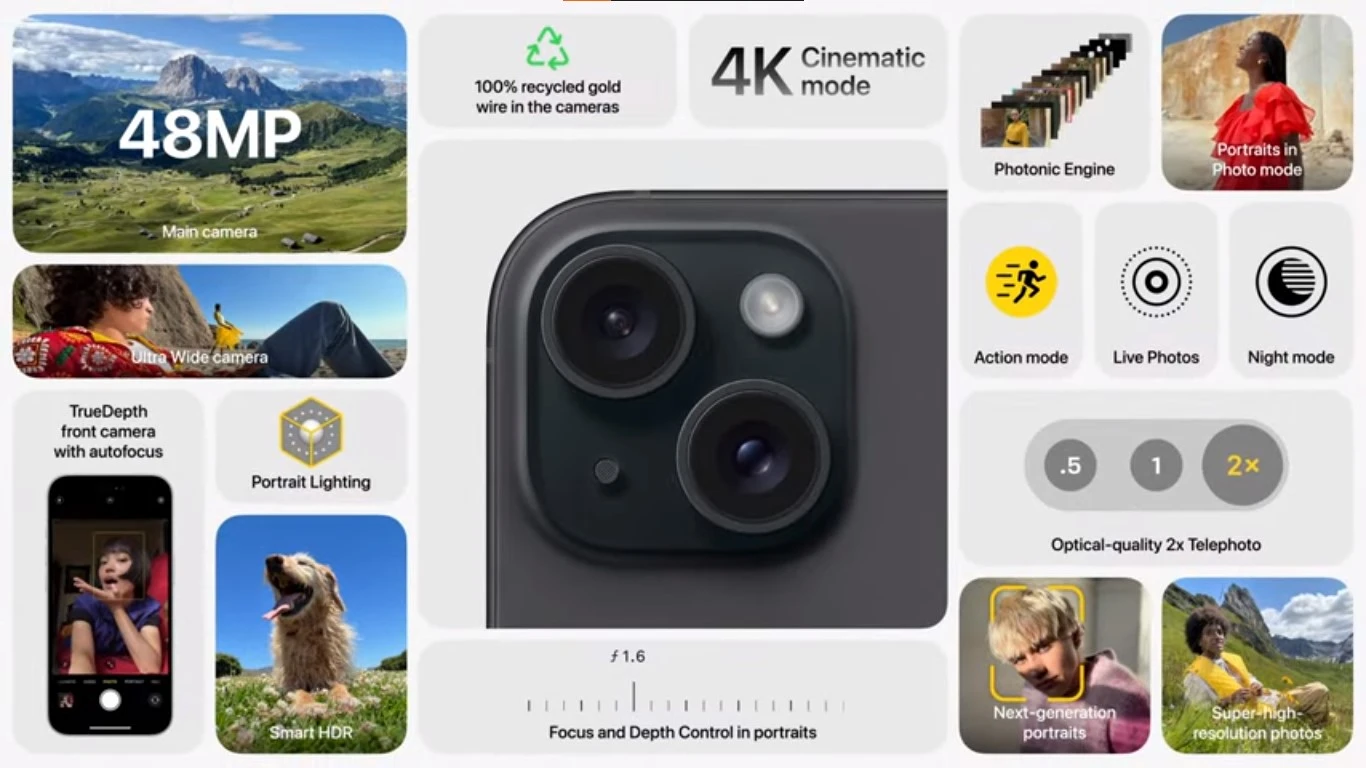 But in the camera department, the 15 series get a new 48 MP sensor (f/1.6) which is capable of taking pictures at binned down 12 MP, 24 MP or the full 48 MP as per lighting or preservation of detail. It also gets a 12 MP "telephoto mode" which crops up the 12 MP in the middle of this 48 MP sensor, for a 52 mm focal length digital zoom. Apple has also upped its portrait game to bout it out with Samsung by detecting pets and groups, auto-detection of bokeh (even in Apple Photos app), portrait night mode, Smart HDR for selfie portraits. Manual Focus and Depth control is now finally granted for iPhones for more granular control of the image. Ultrawide angle camera remains the same at 12 MP with 120∘ FoV.
Phone calls now get better with native Voice Isolation, UWB Chip is now 2nd generation like the Watches launched today, more countries now get emergency satellite SOS (still not India) while now USA gets Satellite SOS based roadside assistance, free for first 2 years.
Finally, USB-C is foraging into the iPhone, becoming the last product to do so in Apple's product catalogue (Along with AirPods Pro 2nd Gen and the OG EarPods) but in this series, its still USB 2 standard only. Along with MagSafe wireless charging, the iPhone 15 series is also compatible with the newer Qi2 certified wireless chargers. The sustainable FineWoven is here too, in form of cases and Magsafe wallets. iPhone 15 starts at ₹79,900 ($799) while the 15 Plus starts at ₹89,900 ($899) for 128 GB of storage. Preorders start at September 15 and deliveries forego on 22nd September.
iOS 17 will be available as a free software update for compatible devices on Monday, September 18.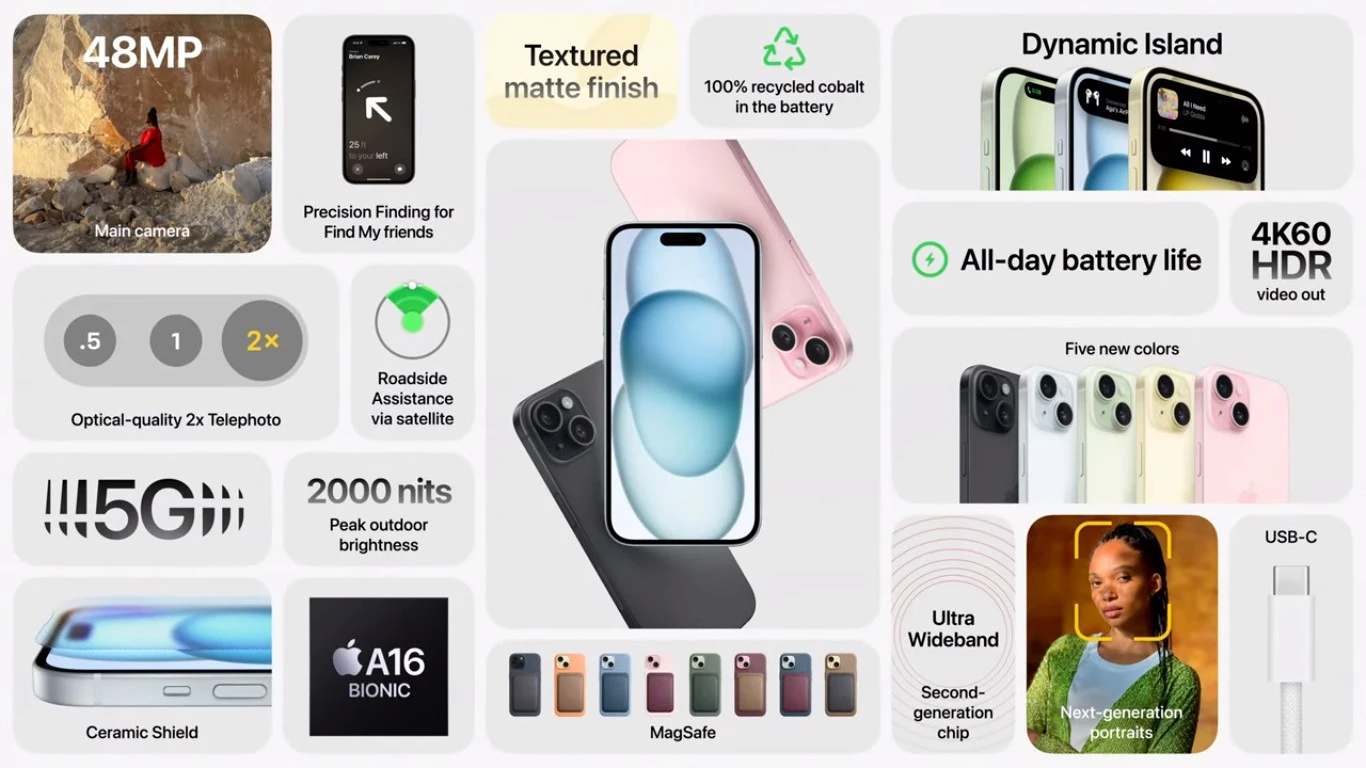 This feels more of a Copy-Paste 😪
Apple iPhone 15 Pro Series: A Step away from the Ultra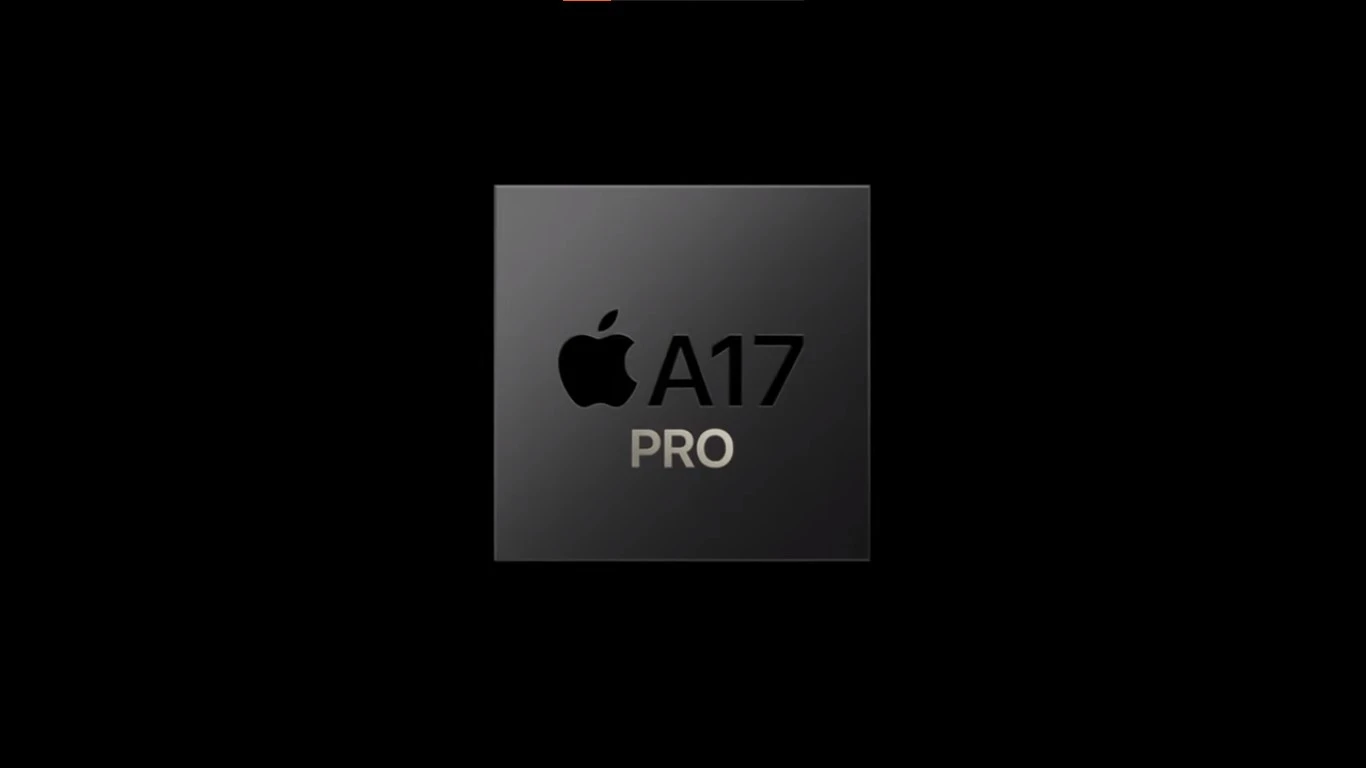 "This, can run console games", claims Apple
The iPhone 15 Pro series continue with the same Pro & Pro Max monikers instead of the rumoured "Ultra' name but now underwent a metallurgical diet and gets a Grade 5 Titanium- Aluminium chassis for rigorous weight reduction. Thus, these devices get 4 completely new titanium colours. It is also more repairable this time as the back glass is now "easily" removable but costs remain to be unknown. The rear glass is contoured similar to the iPhone 15 series with matte finish. Display sizes remain the same 6.1″ Pro and 6.7″ Pro Max but now bezels are more thinner and symmetrical for the Super Retina XDR OLED display with 120 Hz ProMotion and StandBy- capable Always-On LTPO Display. What's new is the killing of the Mute Switch in the Pro series for the more functional Action Button which is body coloured. It normally acts as a Mute button when used/locked but can be remapped to do custom action for different apps and even run your own ShortCuts as per your preference.
The next star of the show comes in the form of the A17 Pro SoC, which got some staggering numbers for a phone and balls to make gaming consoles as its rivals. Its Apple's first 3 nm chip with 19 billion transistors. It gets an usual 6-core CPU and 16-core Neural Engine which is now more efficient and 2x faster respectively but gets a separate ProRes codec, AV1 decoder, USB controller for that new USB 3 port which can hit a 10 GB/s throughput. Apple took their graphics power to another level with Shader-Based 6-core GPU with hardware-based Ray Tracing to bring console games to life. To prove this, Apple is bringing the console games like Assassin's Creed: Mirage and Resident Evil 4 & Resident Evil Villiage to the App Store.
Next star is the cameras. The Pro models use a new 48 MP (f/1.78) camera which can do similar tricks like the 15 series and also can shoot in 48 MP ProRAW and HEIF. Focal length can be digitally adjusted between 24,28 and 35 mm modes. Night Mode gets better with improved LiDAR sensor long with portraits similar to the vanilla iPhones. Ultrawide Angle lens stays the same (12 MP, f/2.2) but macro photography gets even better with more focus lengths and zoom ranges. While the 15 Pro gets the same 12 MP 3x Telephoto shooter like last time, the bigger 15 Pro Max get a 12 MP, 120 mm, 5x Telephoto lens with Periscope lens structure (Apple calls it Tetra-Prism) as it has more surface area to play with. This makes the iPhone to equalize themselves in midst of Android zoom masters. Already unscathed when it comes to video recording, the Pro phones get ProRes upto 4K @ 60 FPS but still no 8K shooting. Professionals will adore the log encoding feature which is now AECS compatible for VFX, colour grading etc… Also, using USB-C with USB 3, one can connect new Pro phones to a MacBook to shoot photos and save directly in the notebook. It is also now capable to record footages directly in a external storage device like SSDs.
Apple also makes the Main and Ultra Wide Angle cameras to record "Spatial Videos" with its Studio Microphones which can be then seen and shared using the $3,499 Vision Pro headset.
The iPhone 15 Pro starts at ₹1,34,900 ($999) for 128 GB of storage wheras the 15 Pro Max kicks off at a steep ₹1,59,900 ($1199) but with 256 GB of storage. If you're American and curious… Yuh, Apple didn't hike the price as rumoured. Preorders start at 15th September and deliveries start off at September 22.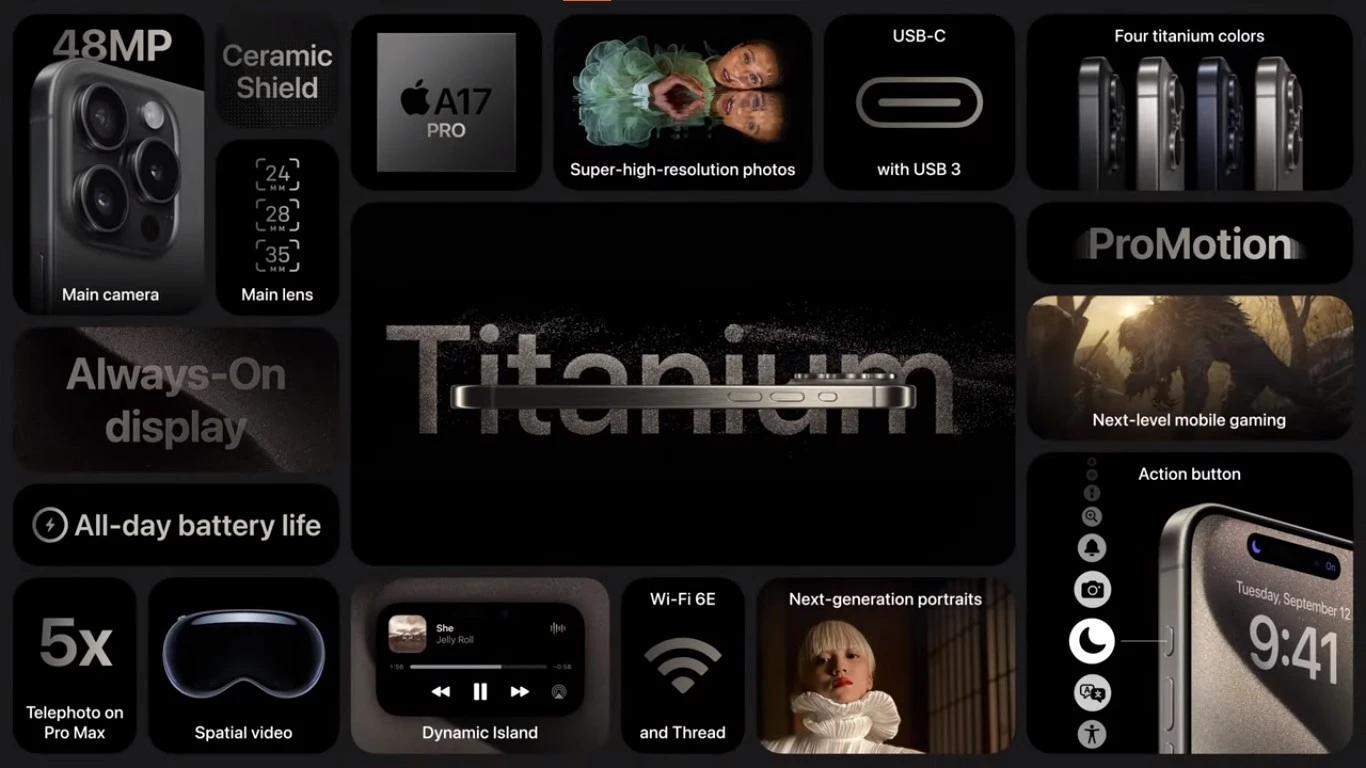 AirPods Pro 2nd Gen with USB-C MagSafe Case costs ₹24,999 unchanged. One can order now and deliveries initiate on September 22. USB-C cases for Airpods 2 and 3 remains unknown.